How Popular is Eminem? THIS Popular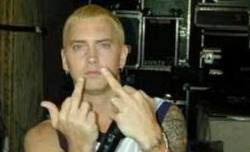 Take that, Rihanna!According to the Daily Dot, Eminem surpassed 60 million Facebook likes this past Saturday. His current pickup rate is 27,000 per day.
To put it another way, one in every 116 people on the planet has liked Em on Facebook.
Read about some other big Facebook numbers here.