How Satan Once Spoke to Us. Allegedly.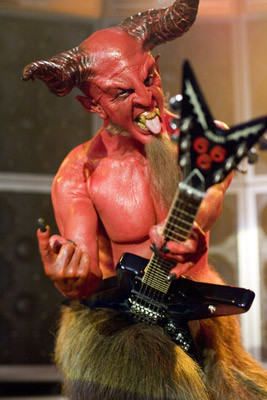 Satan rocks, dude.Backmasking is the term given to the practice of putting backwards messages into songs, something that was pretty popular for a while.
The Beatles were the first to do something like this with the instruments on their Revolver album in 1966, which presaged the whole issue of hidden messages revealing that Paul McCartney was dead a few years later. Pink Floyd and several others picked up on the trick in the 70s.
By the 80s, Christian fundamentalists were positive rock groups were using backwards messages to spread satanic messages. Even when there weren't any messages, they swore that they could hear…something in the gibberish.
It got so crazy that in 1983, there was a bill introduced in California designed to outlaw backmasking that "can manipulate our behavior without our knowledge and consent and turn us into disciples of the Antichrist." (I did not make that up.)
What killed the controversy over backwards messages on songs? CDs. It was too hard to play them backward.
Still, those messages survive. Check out a list of them here.