How Smartphones Are Luring Kids Away from Radio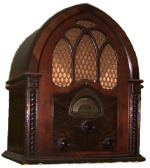 Here's another reason the radio industry needs to move toward IP delivery of their product and content. Pretending that the industry will always be a vital and indispensible over-the-air analogue is sheer folly.
Radio CAN compete in the digital world. It just won't be through just AM and FM.
From Brandchannel:
It's no secret that how consumers spend their time on media varies with age, so it's fascinating to look at two recent studies (US and UK) to get a bead on how the generational shift in media consumption is advancing.
According to the latest Generational Strategies study from Frank N. Magid Associates, during the 9-5 workday more consumers use Facebook than watch television. The sole exception is Boomers, who prefer TV to Facebook, although 26% of those surveyed use the social network during work hours.
If you're in radio, you need to read the rest of this article. This is what young future listeners (or, more specifically, NON-listeners) are doing today.