How the Beastie Boys Made Paul's Boutique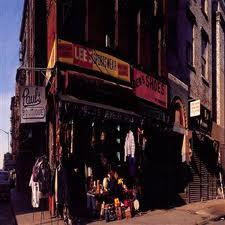 When the Beastie Boys released Paul's Boutique in 1989, it was a let down. No, it was more than that: it was a disaster.
People who wanted more of what Licensed to Ill had offered were…confused. Where were the songs like "(You Gotta) Fight for Your Right (To Party)" and "Brass Monkey?" What was the deal by this mish-mash of sounds?
Paul's Boutique was a commercial disappointment, a setback for the band's career. "The band's done," many said.
But that was then. Now we recognize Paul's Boutique as an artistic and technological masterpiece that was years ahead of its time. Some even call it "the Sgt. Pepper of rap."
Rolling Stone has this profile on how the Beasties put this record together.
With help from L.A. production team the Dust Brothers, the Beasties sampled everyone from the Ramones to Mountain to the Funky 4+1 and stitched together song fragments in a way rarely seen before or since. In fact, the album may go down as the most sample-happy of all time. "Ninety-five percent of the record was sampled," said Beastie studio whiz Mario Caldato Jr. in 2003. "They spent over $250,000 for sample clearances. The list of samples on the album is so long – they're still getting sued over it."
The Beastie Boys didn't exactly struggle under the burden of high expectations for Paul's Boutique. "We were supposed to come out with 'Fight for Your Right to Party, Part Two' and fall on our faces," said Mike D. "Now we get people coming up and saying, 'I just have to thank you. . . . I got into Paul's Boutique in college.' "