How to watch the Taylor Hawkins tribute concert in Canada
The first of two tribute concerts for late Foo Fighters drummer Taylor Hawkins happens tomorrow (September 3) at Wembley Stadium in London. It will be a worldwide Live Aid-like event that runs for hours and will feature all sorts of special guests.
The lineup includes Travis Barker, Martin Chambers, Josh Freese, Violet Grohl, Justin Hawkins, Shane Hawkins (Taylor's son), James Gang, Brian Johnson, Kesha, Lars Ulrich, Luke Spiller, Nandi Bushell, Chris Chaney, Stewart Copeland, Liam Gallagher, Omar Hakim, Joshua Homme, Chrissie Hynde, Alain Johannes, John Paul Jones, Greg Kurstin, Geddy Lee, Alex Lifeson, Brian May and Roger Taylor of Queen, Rufus Taylor (Roger's son), Krist Novoselic, Nile Rodgers, Mark Ronson, Supergrass, The James Gang, Wolfgang Van Halen, and Chevy Metal along with special appearances by Dave Chappelle and Chris Rock.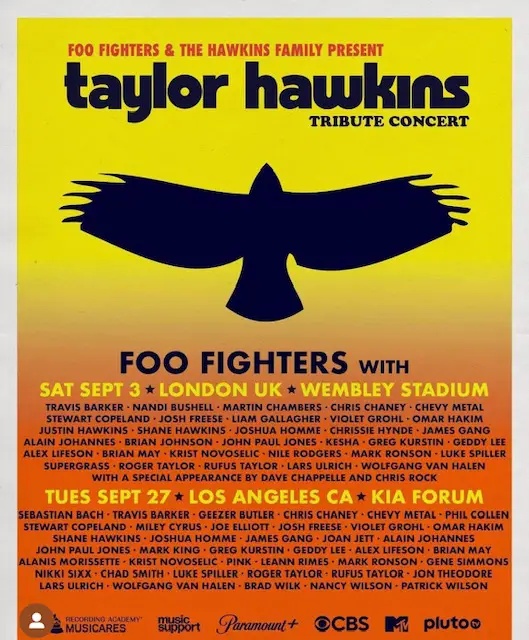 If you're in Canada, the show begins at 11:30 EDT (4:30 pm in Britain).
Okay, so where can we watch it? They're not making it easy for Canadians.
Paramount+ (America will be able to see it live on Paramount+. The rest of the world will be able to access the show on-demand later. Kinda stupid, no?)
MTV YouTube Channels (Globally. Here's one that you can cast to your TV. According to the program guide on my TV, the regular MTV Canada cable channel will be running a marathon of Ridiculousness. Fantastic.)
Pluto TV (Internationally–except Canada, apparently.)
There will be a one-hour special summarizing the show on CBS starting at 9 pm EDT Saturday night. MTV will run an extended two-hour London special at some point in September.