How Zombies Benefit the Music Economy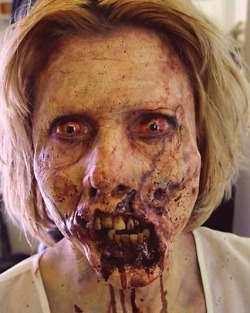 There's a fun article in the business section of MSNBC.com today that adds up the economic contributions of the US economy. Apparently, our fascination with the brain-eating undead is worth upwards of $5 billion.
They came up with this number after examining zombie impact on movies, TV, video games, comic books, magazines, novels, Halloween costumes, art, events (zombie walks, conventions, etc.) and yes, music.
Musicians love the zombie theme. There is a band called The Zombies, and there is the much more famous Rob Zombie. What about the song "Zombie" by The Cranberries? Those may all be named zombie but not truly zombie themed.
Still, Pittsburgh has "Evenings in Quarantine: The Zombie Opera," which have run elsewhere as well. Then there is the Zombie Music Fest 2011 in Grand Forks, N.D., featuring an Ozzy Osbourne tribute band called "Aultimate Ozzy" with a zombie costume contest.
There was also the little known music video by Michael Jackson for "Thriller" in the 1980s — a major cinematic production directed by John Landis. Iron Maiden's "Eddie the Head" may count as zombie music. Iggy Pop and Peaches have a video for "Kick It," featuring them kicking the you-know-what out of zombies.
Overall, zombie music is grossly understated at $10 million