I Don't Understand Why People Are Still Stealing Music When Streaming is So Much Easier and Better?
[Note: This was my column in this week's Metro newspapers. – AC]
It baffles me that people are still going through the trouble of stealing.
Rather than contend with incomplete files, poor metadata, missing artwork, inconsistent sampling rates, the potential for viruses and all the other inconveniences — not to mention all the time and effort required to locate, seed and organize — why not just sign up for a streaming music service?
Ten dollars a month doesn't seem like much of an issue. Even the free versions give you access to about 35 million (and counting) songs with a couple of clicks or pokes.  Streaming has put a big dent into the stealing of music, yet the theft continues.
So what's being stolen? I ran across some statistics recently from hypebot.com that looked at what current hits from the Billboard charts are being illegally downloaded.
Rap and hip-hop is by far the most pillaged genre, accounting for well over a third of all stolen songs, followed by R&B (about a quarter), EDM and alternative, each with about a sixth of all rip-offs.
Folkies aren't above a little shoplifting. On average, the top ten folk albums are downloaded illegally 1,700 times a day with the overall the number of stolen folk songs being about double that of mainstream rock records.
The least stolen music? Classical, which barely registered in the study, falling miles below even Christian tracks.
Read the rest of the article here. Meanwhile, I did get some predictable pushback on my position. (Oddly, one of these emails came from an employee of a bank who used his work email.) The emails all had these common threads:
0$/month is still cheaper than $10/month. Besides, the telcos are ripping us off when it comes to data plans. They make streaming even more expensive.
If you know what you're doing, three clicks is all it takes to find a song.
We have a generation of music fans who grew up on music theft. They're just doing what they've been taught to do by their peers.
Viruses are pretty much non-existent in the file-sharing world today.
"Who cares? We're sticking it to the rich rock stars and record labels. This is retribution for all those years of selling us $20 CDs with only two good songs."
Points one, two, three and four may be true but still doesn't justify theft. This is akin to saying "This steak at the supermarket is too expensive. I can't afford it/I don't want to pay for it, so I'm going to steal it." Point five demonstrates nothing but sheer ignorance when it comes to who is being hurt by piracy. It's all artists, not just the biggest ones, who are being hurt by piracy. And hey, thieves, how would you like the products of your labour taken from you without compensation?
I'll be honest: back in the day I took stuff from Napster, Kazaa, Audio Galaxy and bunch of other sites. That was wrong. I've completely changed my tune. A big part of that had to do with making access to music easier and at a reasonable price. Streaming is the answer. Period. Full stop.
But despite the convenience and easy of streaming from a library of 35 million (and counting) songs, people are still being morons. MIDiA Research points out how piracy has moved to mobile.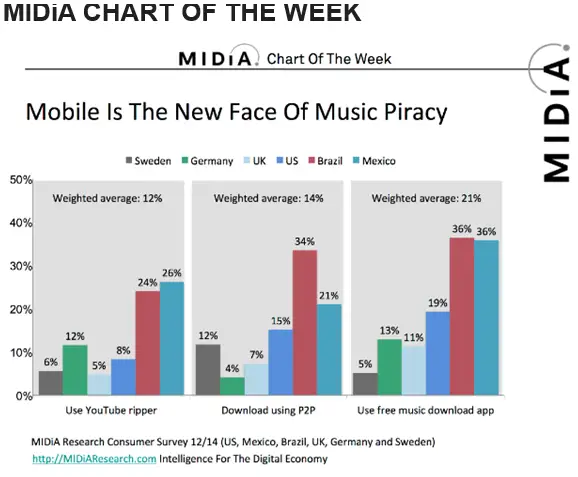 Nothing anyone can say will change my mind. If you're still stealing music, you're an idiot.