I wonder if Google is going to make me take down this story on Steel Panther?
Every time I post something about Steel Panther, my webmaster gets an email from Google saying that the article violates some AdSense standards. If we don't take down the post, we risk being banned from using AdSense.
Given that we barely make enough money to pay for things like hosting, domains, and the newsletter, we can't afford to piss off Google. Down comes the post. But I'm going to keep trying.
Steel Panther is that LA band that doesn't want 80s-style hair metal to die. They're totally over the top, digging for the best (worst?) stereotypes of the genre. Their latest project is a guitar pedal called–wait for it–The Pussy Melter.
Google? We okay so far? Good. Here's a picture.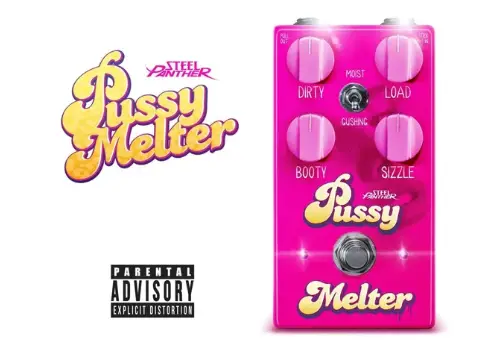 Note the controls. The knobs read "Dirty," "Load," "Booty" and "Sizzle." There's also that centre switch that toggles between "Moist" and "Gushing."
This has not gone over well with a number of artists who have branded the new pedal as sexist. Well, duh.
The band issued this statement on Facebook.
We respect and love the freedom of speech afforded all citizens in the U.S. We support the right for all people to express themselves no matter where they are in the world. We welcome all races, genders and sexual orientations at our shows – shows that celebrate everyone's individuality through partying, and of course a love of heavy metal.
As clearly stated by Satchel [the band's guitarist] when it was originally developed, the sound being created by the Pussy Melter tone pack was intended to bring pleasure to females who heard it. Steel Panther is happy to announce that we are now offering pleasurable eargasms to everyone.
TC Electronics, the maker of the pedal, has, er, backpedaled (sorry) from selling the accessory through its outlets. Instead, Steel Panther will offer it through their own online store when it's released in October. Just $199.99 USD, too.
Google? We still good?