If David Bowie Doesn't Get His Face on the £20 Note, He Might Get His Own Constellation
Getting your face on money is pretty much impossible unless you're a monarch or major politician. But who says that it has to be this way?
More than 12,000 people have signed a petition to have David Bowie's image–any image–grace the £20 note. A new bill is scheduled to be launched in the spring so the timing is favourable. How about something like this?
Fans want to rename Mars after David Bowie (and put him on the £20 note) https://t.co/IHICp30nm8pic.twitter.com/XowAQcNq5w

— Mashable (@mashable) January 14, 2016
It's a longshot, yes, but who knows, right? And if the banknote thing doesn't work out, what about a Bowie lightning bolt constellation? Starman returning to the stars? Maybe. From DDB Brussels:
Studio Brussels wanted to give David Bowie a fitting tribute: an own constellation. Along with public observatory MIRA, Studio Brussel registered seven stars in the form of Bowie's iconic thunderbolt. Bowie takes on a symbolic place alongside the 88 existing constellations. "It was not easy to determine the appropriate stars," says Philippe Mollet from MIRA. "Studio Brussels asked us to give Bowie a unique place in the galaxy. Referring to his various albums, we chose seven stars – Sigma Librae, Spica, Alpha Virginis, Zeta Centauri, SAA 204 132, and the Beta Sigma Octantis Trianguli Australis – in the vicinity of Mars. The constellation is a copy of the iconic Bowie lightning and was recorded at the exact time of his death. "
Take a look. More images can be found here.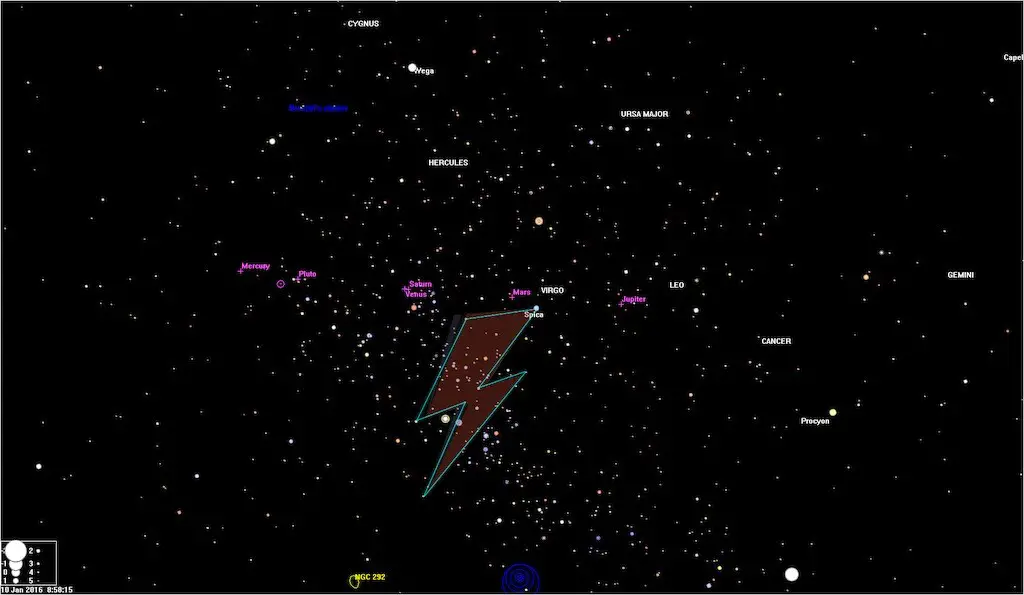 The Man Who Fell to Earth indeed…