If It Looks Like Festival Headliners are Getting Older and Older, You're Right
Here's a fascinating chart that appeared in The Economist. It notes how the average age of lead singers and solo artists performing at music festivals is getting higher and higher.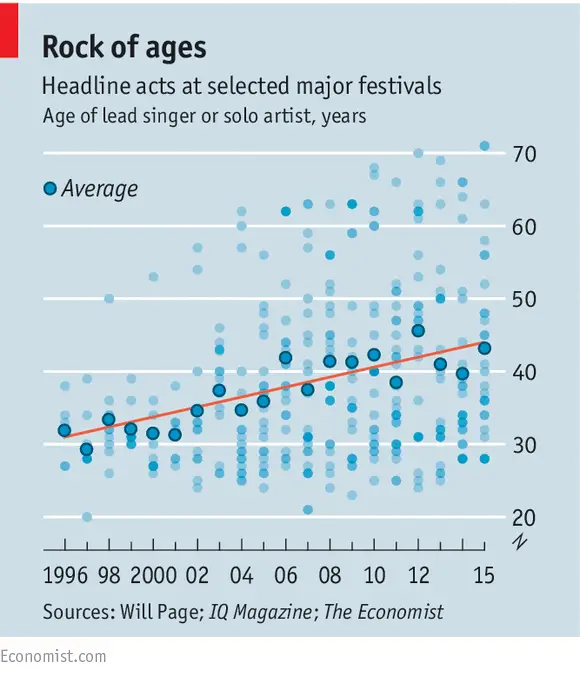 Why is this so? Supply and demand, really. More from The Economist:
[A]s the demand for festivals becomes ever greater, a potential supply-side problem has started to become apparent. It hints at how the music industry has changed rapidly over the past ten years, and how it may need to adapt.
Over the past decade sales of recorded music fell sharply. According to the BPI, an industry body, income from recorded music fell from £1.2 billion in 2004 to just under £700m in 2014. The fall has slowed in recent years, partly because of the increase in online streaming, which accounted for £115m in 2014. But other revenue streams have become far more important—particularly the live music industry. In 2011 it was worth £1.6 billion, according to PRS for Music, which collects royalties on behalf of writers and publishers.
A large chunk of this booming live market is in summer festivals. Whereas around 80 big festivals took place in 2004, there are now over 250 scattered across the country. The season stretches for nearly six months. As new festivals have sprung up, established ones have got far larger.
[…]
Big artists and promoters both benefit from this boom, says Tim Chambers, a music consultant. Artists bag only 10% of the net profit from recorded music, but can command up to 90% of gross ticket receipts. And promoters can make money from large, captive audiences by charging eye-watering prices for food, merchandise and parking.
However, the popularity of festivals poses a problem. As they have grown in Britain so too have they blossomed in America, Asia and Europe. But the pool of artists who appeal to large, diverse crowds and have enough music to play for an hour or more has not increased at the same rate. This means that there are not enough big headliners to go around.
This is a really interesting look at the realities of today's live music environment. Keep reading.