If There Were a Wormhole Connecting Today's Bands with Their Inspirations
Let's say that two mini black holes had a close encounter, close enough for a wormhole tunnel to conect them. One end opened in 1972 in studio two of Abbey Road as Pink Floyd as they were recording Dark Side of the Moon. The other end opened in Radiohead's apple shed rehearsal space in Oxford.
Suddenly, Messrs Rogers, Gilmour, Wakeman and Mason were standing in front of Radiohead, dazed but curious about how they got there. Waiting for the wormhole to reopen, they decided said to Radiohead "Show us what you've got."
A few hours later, the wormhole reappeared and an impressed Pink Floyd returned to the past–but not before swiping a couple of T-shirts. This was the result.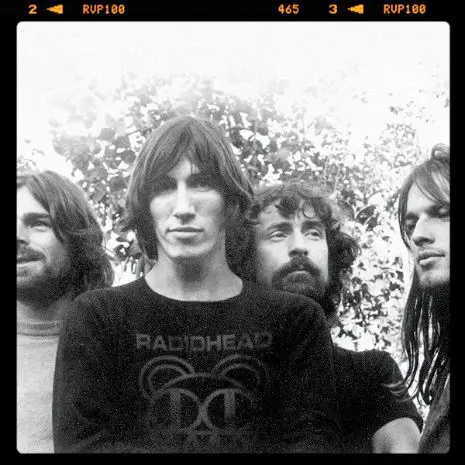 More fanciful time-and-space interactions can be found at Dangerous Minds.