UPDATE: If we're going to be honest, the 2010s were terrible for rock (Part 2: The Fallout)
At the dawn of the 2010s, alt-rock was still, well, rockin'. The top tracks of that first year came from Muse ("Uprising" and "Resistance"), Thirty Seconds to Mars ("Kings and Queens" and "This is War"), and the Black Keys ("Tighten Up").
The following year rocked pretty good, too, with plenty of Foo Fighters, Cage the Elephant, and Chili Peppers while U2's 360 Tour made hundreds of millions.
But then things took a turn towards a more pop sound. Guitars receded into the background. The number of mid-tempo songs increased. And there was a big increase in lyrics with "woe-is-me" and "life was so much better in the past" themes (See "Stressed Out" by Twenty One Pilots).
Where was the RAWK? Where did the loud screamy stuff go? If not for the Foo Fighters, Muse, Arctic Monkeys and a couple of others, everything seemed soft, flaccid, and safe. Very, very safe.
For me, the transition began in in late 2011 when Gotye's "Somebody I Used to Know" became a worldwide hit. It was a great singalong alt-pop song that crossed over into the mainstream in a big, big way. The video now has more than 1.3 billion views.
Although Gotye was destined to be a one-hit-wonder–name another of his songs, I dare you–"Somebody" seemed to precipitate a shift in focus for alt-rock. The big guitars, a legacy from grunge, could still be heard but in ever-decreasing amounts. Just look at some of the #1 alt-rock songs on the Billboard charts through 2012 and 2013.
Coldplay, "Paradise" (Now firmly an Adult Contemporary artist. See?)
fun, "We Are Young"
fun, "Some Nights:
Lumineers, "Ho Hey"
Mumford and Sons, "I Will Wait" (The banjo is back!)
Of Monsters and Men, "Little Talks"
Lorde, "Royals"
Not very "rock," huh?
Alt-rock used to be the playground of the adventurous, the different, and the experimental, but by 2014, alt-rock had become the place to warm up hits for pop radio. Lest we forget, Imagine Dragons were first marketed as a full-on alt-rock band before crossing over into the pop realm. That mass appeal landed them the top three slots on Billboard's end-of-the-decade top rock songs chart which measures sales, streams, and radio airplay.
In fact, this chart sums up all that is problematic with alt-rock. A good three-quarters of the Top 20 rock songs of the decade turned into pop hits.
Believe, Imagine Dragons
Thunder, Imagine Dragons
Radioactive, Imagine Dragons
High Hopes, Panic! At the Disco
Ho Hey, Lumineers
Heathens, Twenty One Pilots
Shut Up and Dance, Walk the Moon
Feel It Still, Portugal. The Man
Ride, Twenty One Pilots
Stressed Out, Twenty One Pilot
Pompeii, Bastille
Take Me to Church, Hozier
Natural, Imagine Dragons
Sail, AWOLNATION
Royals, Lorde
Rope, Foo Fighters
Centuries, Fall Out Boy
Tighten Up, Black Keys
Walk, Foo Fighters
It's Time, Imagine Dragons
Again, not very rock, right? That list has ignited a firestorm online as fans scream bloody murder at Billboard for…something.
This is not–repeat NOT–the fault of Billboard. The magazine is the messenger, showing the results of all their data collection. These were the most popular songs in the alt-rock realm for the decade.
Alt-rock has been sitting on the pop side of the spectrum for nearly ten years now, driven by the preferences of the majority of alt-rock fans. As someone who works in radio, a medium that lives and dies by audience research, I can say with authority that no matter how we tested songs with listeners 18-34 (the primary drivers of alt-rock radio), pop-leaning songs always performed better. And you gotta listen to your audience, right?
The pop effect is even more pronounced if you look at the #1 alt-rock songs of the aughts which came from Blink-182, the Chili Peppers, Green Day, Sum 41, Linkin Park, System of a Down, Evanescence, White Stripes, Queens of the Stone Age, Nine Inch Nails, Weezer, Pearl Jam, and The Offspring.
Perhaps even more revealing were radically different lineups for Coachella in 2009 and 2019.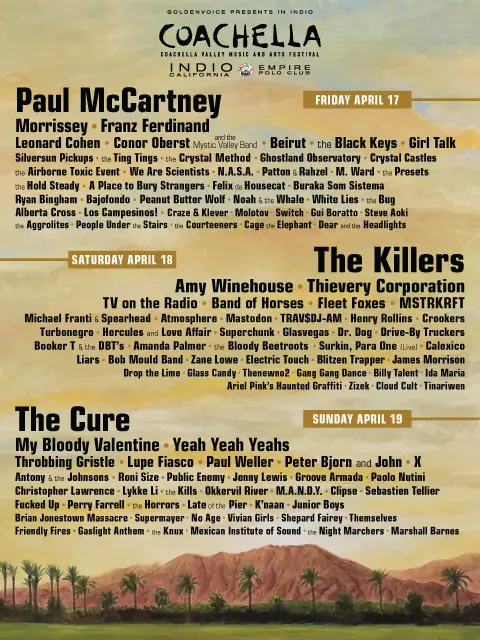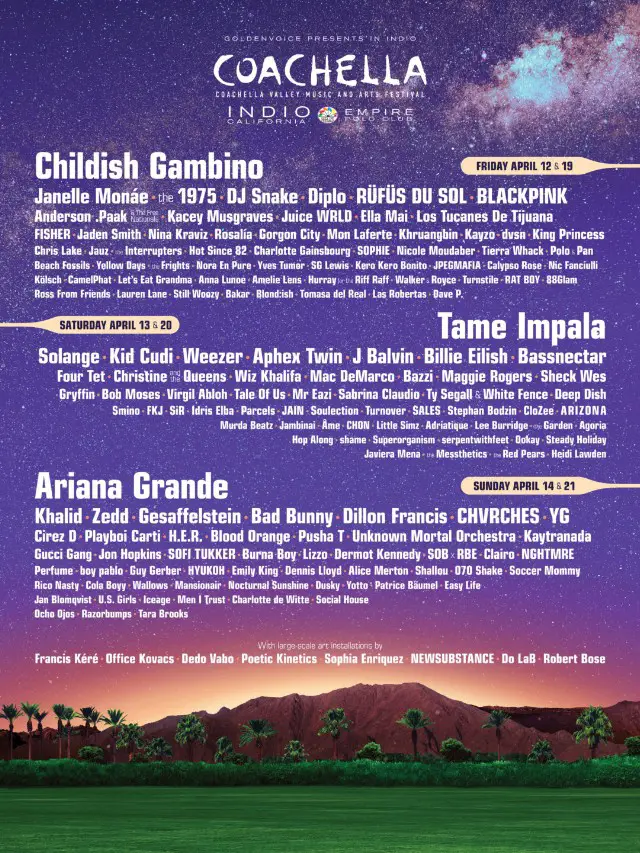 It's even crazier with Lollapalooza, the festival that embodied everything that was alt-rock in the 90s. Here's what the lineup looked like in 2009: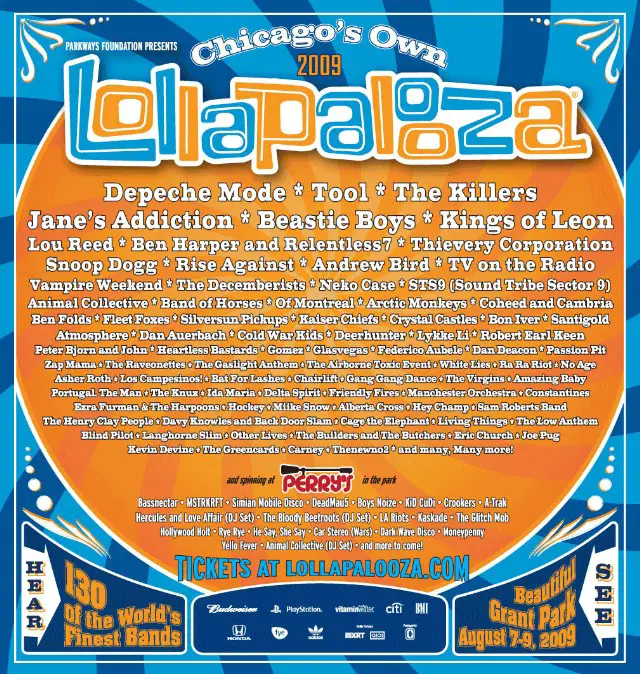 And here's what Lollapalooza offered in 2019: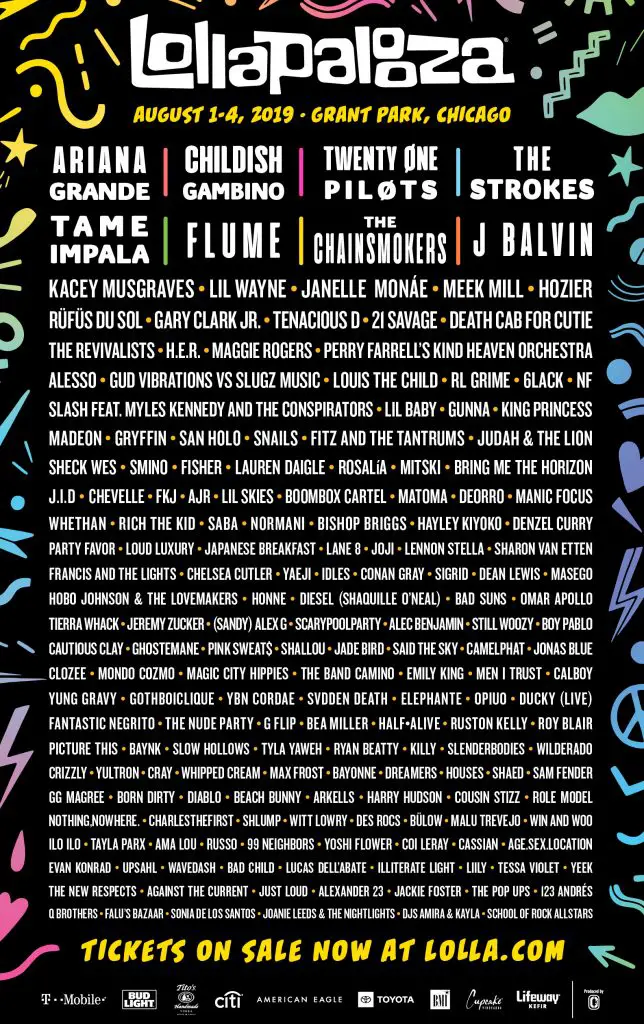 What happened? Here are my guesses:
All forms of rock were pushed aside by the continuing ascendance of hip-hop worldwide. Stats say Canada is still a rock nation, but since we're next to America, where hip-hop is the primary driver of culture, we're caught up in that shift, too.
Rock fans were (and continue to be) slow when it comes to adopting streaming. Labels looked at what people were actually listening to–that's the kind of data we get back from streaming–and decided to fish where the fish were. The majority of marketing and promotional money went to hip-hop artists. Rock and other genres got whatever was left over. The result was a vicious circle where rock got less attention from everyone.
Rock–especially alt-rock–didn't evolve much throughout the 2010s. What we're listening at the end of 2019 isn't sonically or attitudinally different from what was popular in 2012. Compare that to the aughts where we began that decade with the indie rock revolution (Strokes, Arcade Fire, Yeah Yeah Yeahs, etc.) and ended up with MGMT, Metric, and Rise Against.
The slow fade-out of the album. Rock has been an album-based artform since at least 1965. With streaming, it's all about individual songs and playlists.
Competition from EDM. That genre siphoned away a lot of potential alt-rock fans.
Indie rock all started to sound the same, at least to me. If you don't believe me, spend an hour with SiriusXM's XMU and you'll hear a lot of synth-heavy often lo-fi mid-tempo songs with pop sensibilities. It's rare for them to play something new that's in the tradition of The Pixies or The Strokes.
No new scenes emerged. The 90s had grunge, Britpop, and a million other flavours of alt-rock. The 00's saw emo bands being signed by major labels. Nothing close has happened since those days.
The Trump Effect did not take hold. In the past, unpopular and polarizing leaders in the White House and 10 Downing Street (Nixon, Reagan, the Bushes, Margaret Thatcher) resulted in exciting new music by young people who were angry and/or afraid of what was happening to their planet. We have not seen that in the last decade. Where are all the protest songs? If Trump, Brexit, and climate change won't spur young musicians to make loud, angry music, what will?
Rock's biggest market this past decade has been for heritage acts. People are flocking to see artists like The Rolling Stones, Paul McCartney, Guns N' Roses, et al before they go away forever. Even U2 has turned into an oldies act by taking The Joshua Tree on the road. Many younger rock fans are exploring older music, something that's been made so much easier with streaming. If you're spending more time with heritage acts, how much time is left over for new ones?
Alt-rock has become a staging crowd for pop. Fifteen years ago, you would have never heard a song like Walk the Moon's "Shut Up and Dance" on alt-rock radio. Instead, if a group like Greta Van Fleet came along in, say, 2005, there would have been a stampede toward groups with a similar sound. That did not happen.
[There are more reasons for rock's lacklustre performer in the 2010s, but I want to hear what you think. Let's get a discussion going in the comments section.]
If I could reshape the world, we'd all be listening to groups like Fontaines DC and their fantastic album, Dogrel.
…Parquet Courts…
…Kim Gordon's great new record…
…and fierce Canadian groups like PUP.
Other new bands I love: Shame, Cabbage, Sorry, Jehnny Beth, Sports Team, Sharon Von Etten, Pip, Soccer Mommy, Big Thief, Vampire Weekend, Perfume Genius, The Murder Capital, POESY, Fat White Family, IDLES, Sleaford Mods, Black Mountain, Kasador…
But hey, that's just me.
Is rock dead? Is it irrelevant? Should us rock fans just accept that rock had a good run and to just let it go?
No to all of the above. It's out there, but it's been forced underground, just like it was in the earliest days of rock. It takes more effort to find the good stuff, but if you have the time, you'll be rewarded.
More good news. Metal is experiencing a global growth spurt. The Foo Fighters and Nine Inch Nails have new albums planned. And you gotta hope that there's some disaffected kid out there who's picked up a guitar and is learning the joys and catharsis that comes with turning things up to 11.
Meanwhile, a lot will continue to be upset about Billboard's list.