If you have a vinyl collection, you need to store things correctly. That includes proper plastic sleeves.
Here's a look at some of my vinyl collection.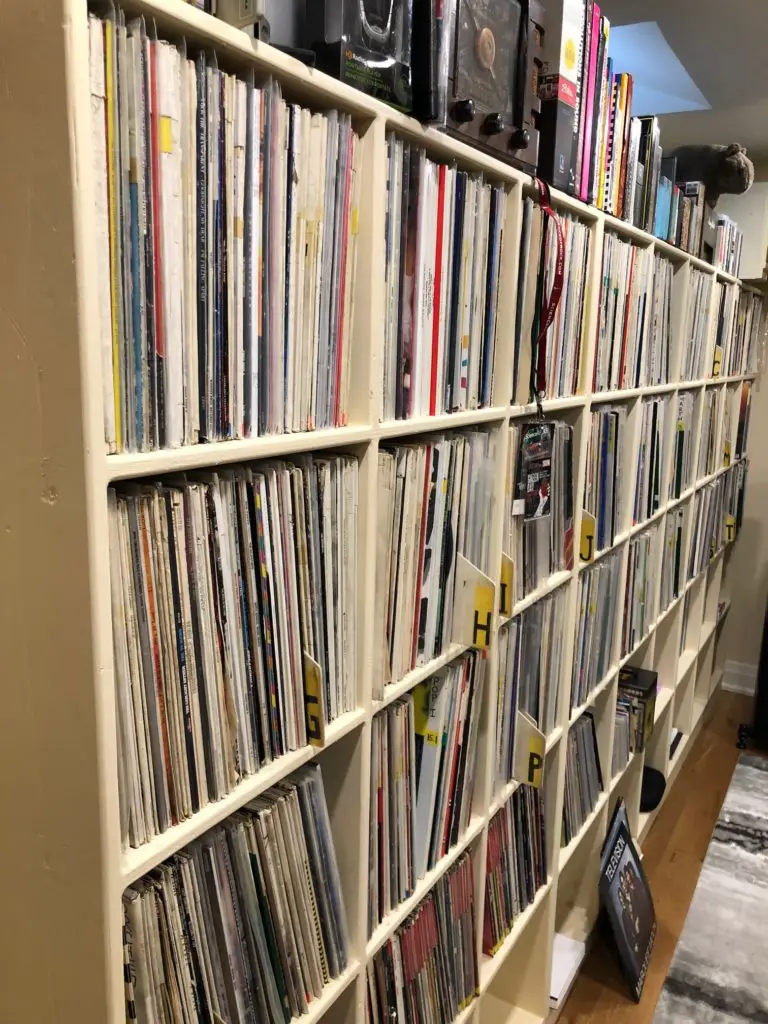 Much of what you see is from the original CFNY/Spirit of Radio record library. Back in the 90s when the station was moving from Brampton to downtown Toronto, I rescued hundreds and hundreds of records marked for disposal. Many of them completely irreplaceable (especially the imports and 12-inch singles) and needed to be stored with care and respect.
Although it's hard to tell from the picture, almost every individual record is tucked into an after-market plastic sleeve that keeps the vinyl and the package dust and moisture free. This is something I recommend to everyone who cares about their collection.
Outside the view of this photo are my latest vinyl acquisitions which haven't been filed away yet because I was out of these special sleeves. They arrived this week, which means I can get to work.
I used to use a company out of the US, but that involved dealing with exchange rates and customs hassles. Now I use a company called Vinyl Storage Solutions, a Canadian company that specializes in premium vinyl storage products made right here.
I have outer sleeves that slip over the entire album, each with a flap that can be tucked to for extra protection against dust and moisture. Most are 4 mil thick although you can also get them in 2 mil versions. This assures that the artwork will not be damaged for fade.
VSS also has inner sleeves designed to replace the original thing in which the vinyl shipped. Those original sleeves are often garbage and actually harm your records as they decompose. Get rid of 'em and replace them with something more gentle. I use 4 mil sleeves where I can, although I have to go with 2 mil ones for album covers that are tight fits.
This shipment also included a bunch of 10-inch sleeves (for some recently purchased 78s, a few 10-inch singles/EPs, and a couple of Edison discs that I can never, ever play). And finally, there's a pack of thick (4 mil) sleeves to protect some precious and rare 7-inch singles.
Another important consideration is the raw materials that go into making these products. Vinyl Storage Solutions doesn't use the stuff described as "poly" or "high density polypropolene." They don't use Mylar, which absorbs moisture. Other materials like BOPP are avoided.
Instead, Vinyl Storage Solutions uses something called CPP, which is environmentally inert and 100% recyclable. It doesn't like water vapor and is resistance to everything from acids and alkalines to grease and oil. Best of all the product is made in Canada with Canadian and American manufactured food grade film.
My most valuable records use VSS for both the inner sleeves and to protect the outer packaging.
Vinyl Storage Solutions created these two videos to show what you can get.
If you care about your vinyl collection, consider after-market sleeving. You won't regret it. Browse at Vinyl Storage Solutions.
This post is sponsored by Vinyl Storage Solutions. All reviews and opinions expressed in this post are based on my personal view.