If You're Going to Burma, Don't Put Headphones on Your Buddha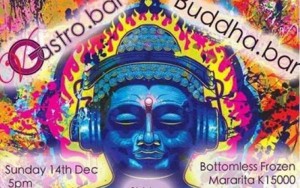 It's settled. You can now be jailed for putting headphones on Buddha–especially if you're trying to sell cheap margaritas to tourists. From The Daily Beast:
RANGOON, Burma — A bar manager from New Zealand and his two colleagues have been jailed in Burma for two and a half years with hard labor because they used a psychedelic image of Buddha wearing headphones for a drinks promotion.
The men were arrested under a draconian religious law after extremist monks voiced outrage against the upscale VGastro bar for publishing the online flyer, which featured the revered figure alongside a promotion for unlimited frozen margaritas.
The verdict comes amid escalating Buddhist nationalism that rights groups say is threatening to derail Burma's fragile reform process as the Southeast Asian nation emerges from decades of military rule.
Yes, there will be an appeal.  I hear Burmese jails are loads of fun.