If you're into electronic music, pause for a moment to remember David Mullaney
David Mullaney may have started out as a jazz accordion player, but that didn't stop him from changing the world of electronic music.
At the end of the 60s, synthesizers were insanely big, tremendously complicated, terribly expensive contraptions. And despite all this complexity, they were very limited in what they could do. Hell, your smartphone has more power and memory than one of these things. No wonder their use was restricted to universities and high-end recording studios.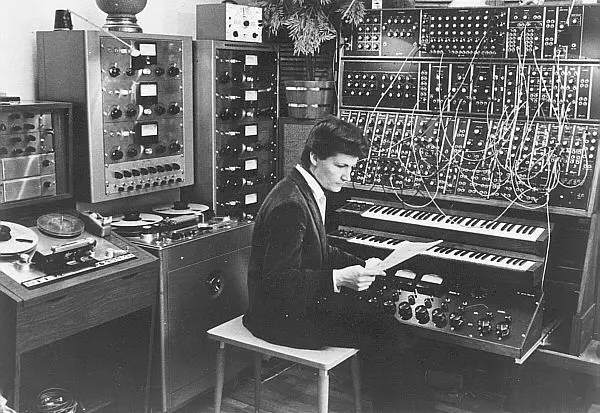 After playing in a number of jazz bands, Mullaney discovered the Beatles and decided to put down the squeezebox. He rose to the position of vice-president at Laurie Records where he worked in the studio with acts like Melanie, the Royal Guardsmen and Dion. By 1969, he was working as a performer himself under the name Christopher Scott and experimenting with the new synthesizers.
That same year, he released synth-based album called Switched On Bacharach, a collection of Burt Bacharach songs arranged for one of these new synthesizer beasts. This sort of thing was considered avant-garde, futuristic and even scientific.
Let's skip to a track called "Popcorn," which was originally recorded by Gershon Kingsley in 1969 for an album entitled Music to Moog By. Again, this was the stuff of science fiction.
Mullaney/Scott's next project was an all-synth project called Hot Butter. Helping him was Stan Free, a member of The First Moog Quintet, which recorded a cover of "Popcorn" in 1971. Hot Butter's 1972 self-titled album featured a re-recording of the song.
Hot Butter's version which was only the second pure synth song to chart in North America, reaching #2 in Canada, #5 in the UK and #9 in the US. (The first synth hit was a single entitled "The Minotaur" by Dicy Hyman in 1969.)
Compare Hot Butter to the Gershon Kingsley version
For many people–me included–"Popcorn" was my first-ever exposure to electronic music. This pop single became the gateway for people to discover Kraftwerk, Emerson, Lake and Palmer, Jean-Michel Jarre and so many others.
There was a second Hot Butter album called More Hot Butter. Mullaney then embarked on a career as an award-winning arranger for TV, movies and commercials. In 1988, he became the station manager at WKJF in Cadillac, Michigan.
Mullaney died this week at the age of 86.