Iggy Pop Board Shorts – Yes, It's A Thing
People generally think of a handful of things when they hear Iggy Pop's name. Board shorts are certainly not on my list of 'things'. Well, now it's a thing.
Sony Music's innovative merchandising company The Thread Shop announces their partnership with music icon Iggy Pop today! The apparel and accessory collaboration is an exclusive collection for Billabong.
Once a streetwalking cheetah with a heart full of Napalm, these days Iggy's more notorious for lounging all day at the beach or pool in boardshorts. "I usually wake up and stay nude for three or four hours," Iggy says. "And when I feel like getting formal, I'll put on boardshorts. Life is better in boardshorts."
The collection was largely inspired by Iggy's gig posters that appeared in the music venue halls of the 80's and 90's. These prints are an authentic tribute and a graphic history of Iggy's legendary lust for life and thread the entire collection of boardshorts, graphic tees and pullovers. The wetsuit top titled, "Wild Thing Glide Skin," cross-pollinates Billabong's surf DNA with Iggy's proto-punk attitude. This memorable tiger print leather jacket from the seminal album, Raw Power, has been redesigned and is now waterproof and ocean ready.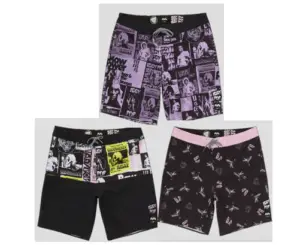 Check out his entire collection at Billabong.