I'm Off to Sled Island in Calgary. This Looks Good.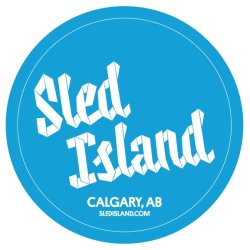 One of my downtown Toronto hipster peeps is on the phone.  "Where are you off to next?"
"Calgary," I replied.  "As soon as NXNE wraps up, I'm heading for the Sled Island Music and Arts Festival."
"What's that?" my hipster friend sniffed, "Some kind of rodeo?"
"It's Western Canada's largest indie music festival.  This is year six."
"Calgary?" he snorted.  "You can't be serious.  Everyone knows that there's no culture in Calgary, let alone any kind of proper music scene.  It's all dirty oil, cowboy hats and horse manure."
Hardly.  Tucked in just before the Stampede (which turns 100 this year, by the way), SI's goal to bring some life to the downtown core, a place that can feel very, very empty after office hours. It's also about showcasing all kind of indie culture. 
For anyone into indie music, film, art, and comedy, SI is a fantastic place to mix it.  Hundreds of bands will play venues range from Olympic Plaza and the National Music Centre to tiny bars and churches—with a Royal Canadian Legion or two thrown in. 
So who's coming?  Here are of some highlights for what some consider it to be the coolest event of its type in the country:
Feist (a Calgary native, lest we forget) will play a big outdoor event on Friday. 
Alt-rock elder statesement Thurston Moore (Sonic Youth), Steven Malkmus (Pavement), Lou Barlow (Sebadoh, Dinosaur Jr.) and Nomeansno.
Shadowy Men on a Shadowy Planet (best known for their surf-rock theme, "Having an Average Weekend" aka the theme from The Kids in the Hall) will reunite for their first show in sixteen years.
Andrew WK promises to keep partying hard with performances, DJing and motivational talks on (what else?) partying hard.
Craig Finn will do double duty, performing solo and with his day job band, The Hold Steady.
Past Polaris Prize nominees The Sadies and Timber Timbre
Lots of super-hot indie bands:  Yamantaka // Sonic Titan, Russian Circles, Young Empires, Shabazz Palaces
By the way, my friend should know that Calgary has been designated the Cultural Capital of Canada for 2012.  And in case you haven't heard, a permanent bricks-and-motor home for the Canadian Music Hall of Fame is going up in the city.  Culture—including music—is doing just fine in Cowtown.
For full details, go to www.sledisland.com