I'm Worried About Green Day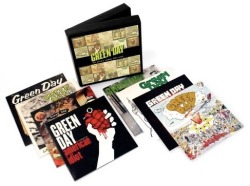 About a month from today–September 25, to be exact–Green Day will release the first of three albums over the course of five months.
¡Uno! comes first, followed by ¡Dos! on November 13 and finishing up with ¡Tre! on January 15. Oh, and a big box set comes out tomorrow.
For the hardcore faithful, this is an awesome windfall. Overall, though, I'm not sure this is a good plan. I see a tremendous risk of overexposure. How much Green Day can the world absorb in such a short period of time?
Green Day is doing this because they can. As one of the most successful bands of the last twenty years (minus that little hiccup at the end of the 90s/beginning of the 00s), no one is going to tell them "no." Almost everything they've done has been wildly successful.
But three albums in five months? That's unheard of prolificness (is that a phrase?) from a major label band. Hell, it's more than Jack White. More than Elvis Costello at his peak. Even the Beatles didn't release three full albums of new material in that short amount of time.
About the only band I can think of to approach this kind of quantity is Britain's Guillemots who plan to release four albums in twelve months. Hello Land came out in June; the second is set for release next month.
Even if Green Day can pull it off artistically is this a good idea from a marketing/brand perspective? I worry that it isn't. So much music and so much ubiquity threatens to dilute Green Day's value. They'll be everywhere all the time, always in our face.
There's also no guarantee that the Green Day faithful will invest time, energy and money in all three albums and all the sundry that will come with them.
Dudes: You're asking a lot of your fans and the public in general. I hope you know what you're doing.