In a Band? Here's How to Make the Most of Your Merch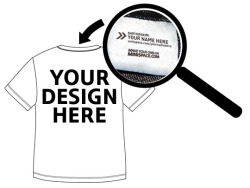 Some good advice from Robal Johnson of PUMP Merch (via Hypebot).
In the last ten years we have experienced the simultaneously terrifying and invigorating evolution of recorded music and collectively bore witness to the ups and downs of technological progress and innovation. The entire major and independent music establishment has struggled to find new ways to make an honest living in this ever-changing market. Yes, it has been scary at times, but the impassioned and determined among us will never be deterred because this music game isn't a phase, it's a way of life.
While many focus on the negative – i.e. the consolidation of major corporations gobbling up the little man – I like to highlight the opposing side: a growing middle class of industry professionals offering quality goods and services at an affordable price. There are boutique PR firms, media companies, management groups, and independent record labels popping up across the globe. From the ashes, we are seeing a rebirth of a music business run not by boardrooms and shareholders, but by music lovers, artists, freaks, and outcasts because we all know that in order for this industry to evolve and succeed, music must once again be the driving force.