In Front of Computer? Feel Sad? Here's Why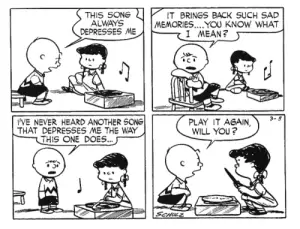 From The Guardian:
Almost everyone engaged in creative pursuits will know the feeling of being on one's laptop at stupid o'clock, willing something to happen on the screen in front of them. It's toolkit and office – and also the place to socialise and unwind, especially in the middle of the night.
The state of mind that accompanies this will also be recognisable.
It feels lonely, but oddly peaceful; your eyes hurt and your skin feels slightly numb; every so often, fatigue makes you zone out and hallucinate (mildly, like having a spot of vertigo when you look down at the space bar). There's a lack of distraction from your own thoughts, which means you're susceptible to wandering down dark or melancholic cul-de-sacs – and believing those thoughts are profound. No wonder a soothing soundtrack is needed: music that affects just enough woozy weirdness to mirror your brain's odd patterns, but can be relied on not to provide any surprises. Comfort food, essentially.
Gazing at a glowing screen may be a daily occurrence in our lives, but it never feels healthy. (We're all prone to those long dark nights of the soul, so it makes sense that acts such as Best Coast, Friends and Washed Out provide a soundtrack to a TV ad for Wistful Nostalgia.) Refreshing those pages endlessly as you wait forlornly for inspiration to strike feels more akin to mental desiccation.