In Providence This Weekend? Check Out The Big Bang Science Fair!
This looks to be a very cool event! My contact at CERN (SO much fun to say that!), Connie, sent this along.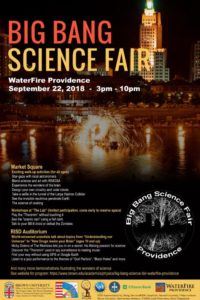 Sponsored by Brown University, CS4RI, USCMS Collaboration, IEEE Superconductivity and Harvard University, with collaborating support of Bryant University, Citizens Bank, and CERN's USCMS and USATLAS experiment.
The event celebrates the intersections between science and the arts. We invite kids and adults of all ages to participate in the free, hands-on activities and discover science in our daily lives. For one exciting day, famous scientists team up with musicians, programmers, artists, and chefs to explore the wonders of science. Do not miss Musician Micky Dolenz from the legendary band The Monkees and meet the researchers working with the Large Hadron Collider at CERN, Geneva. Check out the schedule of presentations and performances in the RISD auditorium, make sure to collect a free ticket 30 minutes beforefor the interactive workshops in The Lab @ Market Square and drop in at the surrounding hands-on activity tents… all for the very first time at WaterFire! We start at 3 pm and go until late at night.
Naturally, the music components look to be intriguing. Check this one out:
"Making Music from Real-Time Scientific Data"
Julianna Cherston/MIT Media Lab
Lecture
Have you ever seen a doctor use sound from a stethoscope to diagnose a patient, or a car mechanic use the sound of a broken automobile to determine which part is malfunctioning? What if we could map data from many different systems to sound in order to better detect patterns in it? Or, use it as a new medium for artistic expression? This talk will introduce you to data sonification, an emerging field of research. We built a tool that lets scientists swipe scientific data streams between auditory and visual modes and another that showcases artistic sonification of real-time particle collision data from the ATLAS Detector at CERN. Some of the appeal and also some of the challenges and limitations to creating sound from data will be addressed.
Lots more going on there. Check out the whole schedule and pass this along to anyone who might be interested!