In Today's Kanye-Is-Batshit-Crazy News…
Even diehard Kanye West fans are having a hard time defending what Yeezy is doing and saying these days. Yeah, he's a great artist but as a human being, he's just…I don't even know if there's a word for it.  Here's a roundup of today's Kanye-is-batshit-crazy news:
ITEM 1: Stephen Colbert explains why we should consider giving Kanye all our money.
ITEM 2: If you want to help, there's actually a GoFundMe page created for poor Kanye so the world can eventually benefit from his "beautiful ideas." I quote:
Kanye West, prolific entertainer/fashion icon/celebrity/member of the Kardashian family needs our help!
Recently, Kanye let us in on his personal struggle. He is 53 million dollars in debt and it doesn't look like he's going to get Mark Zuckerberg's help that he desperately needs. We must open our hearts and wallets for Kanye today. Sure he is personally rich and can buy furs and houses for his family, but without our help, the true genius of Kanye West can't be realized.
As Kanye West has told us time and time again he is the "greatest living artist and greatest artist of all time". Great artists need to be supported financially to achieve their full potential.
To quote Mr. West, "I am Warhol. I am the number one most impactful artist of our generation. I am Shakespeare in the flesh. Walt Disney. Nike. Google. Now who's gonna be the Medici family and stand up and let me create more!"
WE MUST BE THE MEDICI FAMILY TO KANYE.
GoFundMe, let us unite!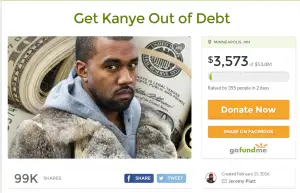 ITEM 3: Kanye's "I Love Kanye" is meme heaven.
ITEM 4: This is/isn't going to help. It all depends if you're buying everything Kanye is selling.
ITEM 5: And just went you thought it couldn't get weirder with Kanye, it did.