Inquiry to the Annual Christmas Shopping Question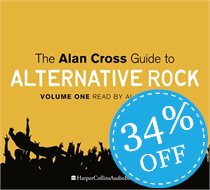 "Can I get any of your radio shows on CD? Or is there somewhere I can download them?"
Man, if I had a buck for every time I've been asked that question.
The answer is "Sadly, no. There are far too many copyright issues involved with the music to make that possible. Sorry."
However…
I do have four audio books, each based on some of the radio shows I've done through the years. There's no music in any of them but I'm the narrator. Should you be interested in obtaining hard copies, you can go to Chapters/Indigo and order them online.
Or, should you wish the digital versions, iTunes has them. And with iTunes, you can either buy the whole bundle or just the individual chapters. Just open iTunes and launch a search for "Alan Cross" and you'll find everything. (Or, should you prefer, you can go directly through Audible.com.)
Either way, lemme know what you think.