Interest in Music Downloads Has Peaked, Streaming Picking Up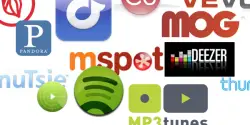 Well, at least in the US. Can Canada be far behind?  From Billboard:
Google Trends shows what we already know: subscription services are increasingly popular while interest in paid downloads has peaked. But Google Trends, a Google service that graphs the frequency of search terms, also shows the popularity of music services in relation to one another.
A blog post by the Echo Nest's Paul Lamere showed the various trends of various digital music services at Google Trends. Lamere performed one query at a time. While the results were insightful, I expanded the searches by combining search terms and examining how services are trending in various countries. Examining trends by country is especially revealing because adoption of legal music services takes place at difference paces and on different timelines from country to country.
It's easy to understand why Apple is launching an Internet radio service. SoundScan and IFPI data have already showed that download's share of digital music peaked in the US and globally in 2011. Google Trends also shows interest in downloads is waning.