Interview with Dir En Grey Bassist Toshiya
[Another fine one-on-one by resident metalhead Andrew Epstein. – AC]
Dir En Grey first garnered attention during the late 90's in the Japanese visual kei scene. Their music was a modernized take on David Bowie and T. Rex focussed through the fashion sensibility of X Japan. Finding success at home their profile continued to expand and their already-varied sound started to change.
With the release of their 2005 album "Withering To Death" and a ferocious appearance at Germany's Rock Am Ring festival the band began to press steadily onward towards the West. Slowly and progressively the band shed their glam look, and while their sound continued to diversify it also became more distinct. The Dir En Grey sound is now an equal mix of pop, rock, metal, and punk. On their more recent recordings it's normal to find a power-ballad next to a heavy track with guttural death metal vocals, then followed up by a swing-laden punk affair. They've even taken to re-recording and re-interpreting some of their older tracks, many of which are found on their latest EP "The Unraveling".
This musical approach has found success across the board in North America with J-Rock traditionalists, the college alt-crowd, and a slew of new fans in the metal and hardcore scenes. It turns out their Western audience is fiercely loyal (they grabbed the most votes for Video of the Year on MTV's Headbanger's Ball twice). The band is arguably the most popular Japanese-speaking rock act in North America.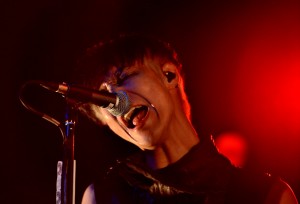 Photo:  Christian Potter.  More here.
I had a chance to speak to bassist Toshiya (through the faithful translation of Tour Manager Nora) before the band's recent jam-packed show at Toronto's Opera House about their gradual change in style and the often extreme eclectic nature of their music.
[soundcloud url="https://api.soundcloud.com/tracks/128284211″ params="color=ff6600&auto_play=false&show_artwork=true" width="100%" height="166″ iframe="true" /]