The iPod Classic May Be Gone, But Its Legacy Lives On
From their cold, dead hands. That's how several of my friends feel about their iPod Classic.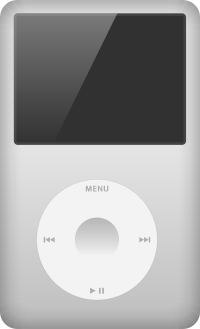 Apple dropped the Classic from the lineup almost two years ago, but it lives on in the hearts of longtime users. Hey, some people feel the need to travel with 160 GB of music. There's still a brisk trade in the machines on eBay. Some of the early generations are trading for thousands of dollars.
The Ringer has this fond remembrance of a portable music player that helped change our relationship to our music collections.
"Wow," a man said to me recently on the subway, "I haven't seen one of those things in years." He gestured toward the scuffed-yet-still-sleek, aluminum-colored rectangle in my hand — a 160GB sixth generation iPod Classic. I blinked for a moment. We were not talking about, say, a quill pen, a monocle, or a bottle of Crystal Pepsi, but an electronic device I had purchased in 2010.
I knew what he meant, though. Technology moves at hyperspeed. Apple has created and helped universalize a particular kind of planned obsolescence — its products have to go out of fashion and/or break every few years, to ensure you'll buy a newer one — and as a result, in the eyes of the general public, Last Year's Model has never looked like more of an antique. The Museum of Modern Art recently hosted an exhibit called "Making Music Modern: Design for Ear and Eye," which showcased the successive innovations in music players over the past century or so. As I strolled through, the piece that stopped me in my tracks and made me think, wow, look at that dinosaur! was not an old Victrola or a bulkily primitive jukebox — but a first generation iPod, circa 2001, complete with a clunky pre-touch click wheel and (get this) a FireWire port. "Nothing in the world," writes Ben Lerner in his 2014 novel 10:04, "is as old as what was futuristic in the past."