Is Dave Grohl going to make an appearance with Toronto's Choir! Choir! Choir!? [UPDATE]
UPDATE: A source inside said last night was canceled. Damn. Rick will be very disappointed.
The Choir! Choir! Choir! bunch are fun people, music fans who get together to sing for the sheer joy of it. Occasionally, they have some high-profile guests drop in to sing with them. For example, remember when Rick Astley showed up?
Now let's connect some dots. Dave Grohl and the Foo Fighters are friends with Rick. Remember this performance with the Foos at the O2 Arena in London last year?
Rick apparently put out a challenge to Dave: "When you're in Toronto, go sing with the Choir! Choir! Choir! people."
That brings me to these tweets.
Hi Dave Grohl @foofighters, our new pal @rickastley has a challenge for you: come sing with us!!! https://t.co/K4YCeeUfrH #SingWithCCCGrohl!

— Choir! Choir! Choir! (@choirchoirchoir) April 20, 2018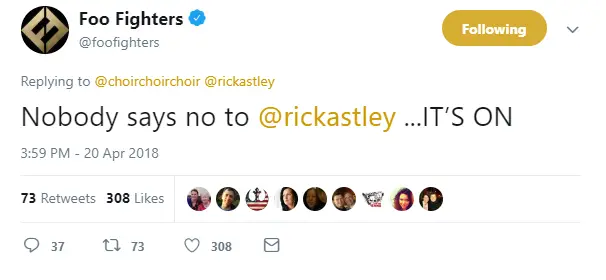 Another hint: Dave likes to visit Cherry Cola's whenever he's in Toronto. Just sayin'.