Is There a Supernatural Connection Between Supertramp and 9/11?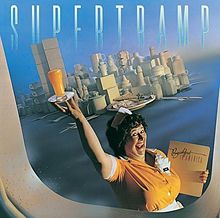 Hey, I like a good conspiracy theory as much as the next guy. But I've stumbled across something that takes nutty to a whole new level. From the Supernatural Research Institute:
[A]s the internet begins to be a buzz about this 9-11 mirror image on Supertramp's Breakfast in America cover, whether this is a coincidence, Jungian archetypes or the supernatural – there is truly a deeper and more serious symbolism playing out right in front of our eyes.
It quickly spirals deep into Cloud Cuckooland. Enjoy.