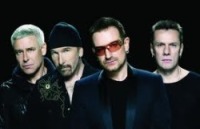 Alan M was pondering U2 history when he realized that something was a little wrong.
U2 uses Roy Lichtenstein art in PopMart = He dies soon after
William Burroughs appears in the "Last Night On Earth" video = He dies soon after.
Allen Ginsburg recites "Miami" for the Year in Pop TV special = He dies soon after.
U2 does song for Mandela movie = He dies soon after.
Add David Wojnarowicz to this list (inspiration of the song "One" who later died,) and the Roy Orbison collaboration (Bono and the Edge wrote "She's a Mystery to Me"–and then he died).
Joey Ramone listened to "In a Little While" as he took his last breaths in a hospital bed. And let's just throw in the Sinatra duet with Bono for good measure.
I'm not sayin', but I'm just sayin', you know? Anyone want to build in the theory?