It begins: Christmas music has arrived for 2020
If you check the calendar, we're 88 days from Christmas. But apparently it's already time for Christmas music.
Checking radio play monitoring system BDS, Mariah Carey's "All I Want for Christmas is You" was played 12 times across North America in the days following the first day of fall.
Jeezus. It's begun.
It appears that the first radio station to flip to an all-Christmas format this year is Z104 in Middlesex, Pennsylvania/Youngtown, Ohio. They made the switch from their oldies format to totally Christmas this past Friday (September 25) at exactly 12:25 pm (geddit?). This is one month earlier than the station's switch in 2019.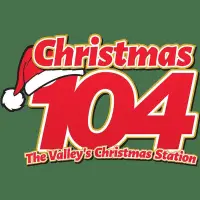 I quote from the press release:
CUMULUS MEDIA announces the launch today of Christmas 104 (WWIZ-FM), The Valley's Christmas Station, an all-Christmas radio station bringing holiday cheer and the season's best Christmas music to the Mahoning Valley. Christmas 104 debuted today at 12:25pm on WWIZ-FM, previously programmed as "Z104, The Valley's Goodtime Oldies" station. "We Need a Little Christmas" by Percy Faith and His Orchestra kicked off the festive and familiar lineup of holiday tunes, which will run through year-end on WWIZ-FM.
 
Bill Kelly, Vice President/Market Manager, Cumulus Youngstown, said: "If ever we could use a little Christmas, right this very moment, it is this year. We simply want to lift people's spirits."
Charley Connolly, Operations Manager, Cumulus Youngstown, added: "We're bringing much-loved Christmas music to our listeners about a month earlier than we did last year. By playing traditional and new Christmas classics on Christmas 104, The Valley's Christmas Station, we are doing our part to usher in the season of love, peace and joy even earlier."
Please enjoy.
(Via Radio Insight)