It's Oscar Night. Here's a Look Back on the Best Musical Performances.
*Sigh* The Oscars. The most bloated, self-serving, smug and un-entertaining awards show of them all. We know that it's going to run overtime, give screen time to categories no one gives a shit about and feature long, rambling, pointless acceptance speeches. And don't get me started on the vapidness of the whole red carpet thing. Frankly, all I care about is Chris Rock's opening sequence which will undoubtedly feature a reference to Leo DiCaprio, a bear and anal rape.
At least Chris Rock doesn't sing. And there's a 100% chance that he'll go to town on the whole #OscarsSoWhite controversy. Let's hope he makes the whole audience squirm.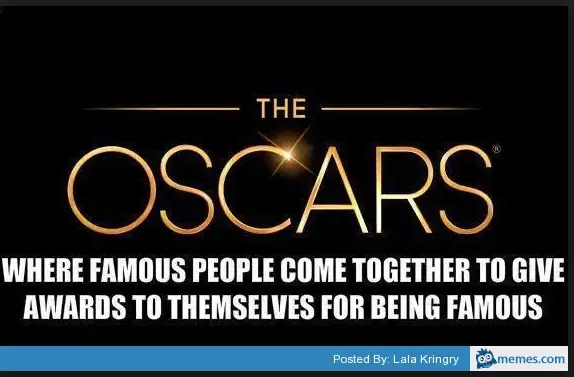 Now that I think of it, there is one other thing about which I'm curious. What will Dave Grohl's "special Oscar performance" be all about? He has zero connection to any of the nominees, so how is he being shoe-horned in?
And that's just one of the musical performances. Given that Sam Smith, Lady Gaga, the Weeknd and Anhoni (formerly Antony) Hegarty all have nominated songs (although Anhoni is boycotting the whole thing over how she's being treated as a transgender person), things should be marginally cooler than in previous years. Yet there's no guarantee that the nominees will be able to sing their own songs. The Oscar producers sometimes give that job to people with no connection to the song for political and/or showbiz reasons.
Whatever happens and whoever performs, they'll be measured against past Oscar performances. Rolling Stone has compiled a list of 20 Academy Award musical gigs, which can be found here. My favourite? Robin Williams doing "Blame Canada" from the South Park movie.
https://youtu.be/BppBRCv1Bkg
And while we're on the subject, some composers got together Saturday night. Here's what they talked about.