iTunes Turns 10 Today. What Has It Wrought?
It was April 28, 2003, that Steve Jobs strode out onto a stage and introduced Apples's new online music store.  It was the unveiling of iTunes 4, the first edition of iTunes to feature users' ability to purchase songs, not just to rip CDs.  Critically, it was also made available for PC users.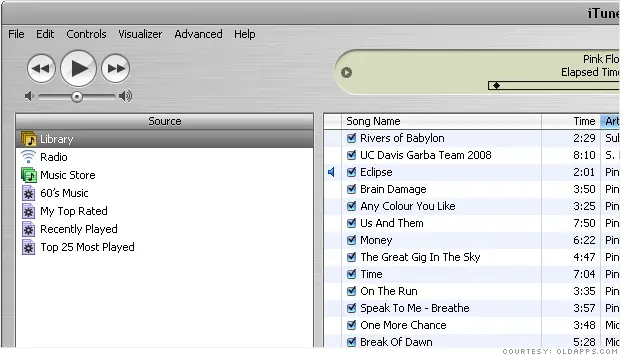 (Via CNN Money.  Go here for a look at iTunes iterations through the years.)
What began as a ploy to sell more iPods has grown into the biggest music relailer in the known universe.Billboard recalls how Jobs made this possible:
When executives from Warner Music and Sony Music reached out to Steve Jobs in January 2002 in hopes of recruiting Apple into a consortium to develop a standard for interoperable music devices, they approached the meeting in Cupertino, Calif., with much apprehension for the future of the music business. A few minutes into the pitch, Jobs interrupted and said:
"You guys have your heads up your asses."
"Everyone else in the room was silent," recalls Warner executive VP Paul Vidich, who attended the meeting after flying in from New York that morning. "I replied in a hoarse voice, 'You're right, Steve. That's why we're here. We need your help.' The intent of the meeting was to recruit Apple to join the consortium, which they did. But this consortium never produced a product or standard."
Still, the meeting sowed the seeds for something much bigger. It started Apple down its own path, and two months later Jobs called Vidich and requested a separate meeting with Warner executives alone. Jobs said he wanted to discuss his own vision for a digital music store. It had been tried by other companies before, but nothing really caught on. This pitch seemed different somehow, more elegant.
Once everyone was on board, the music industry changed dramatically thanks to iTunes' a la carte offering.  No longer were music fans locked into buying full albums at inflated prices.  This ability to buy individual songs was radical.  The chart from CNN Money shows how iTunes tipped the scales away from physical sales–and from buying full albums.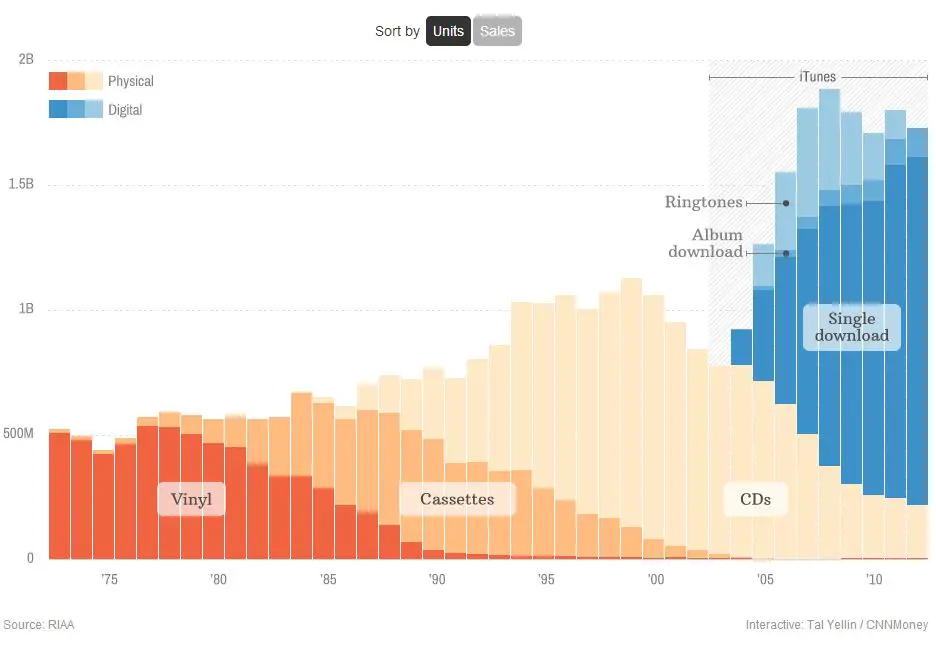 The biggest earth-shaking change came in April 2007 when EMI agreed to remove all digital locks from iTunes music files.  Now the music could be shared freely.  All the other labels soon followed.  Sales went through the roof.
The other day I receved a package from Apple.  Inside was a printed version of the iTunes timeline, a note from Eddie Cue (Apple's SVP of Internet Software and Services) and a gift card featuring 100 songs from a decade of iTunes.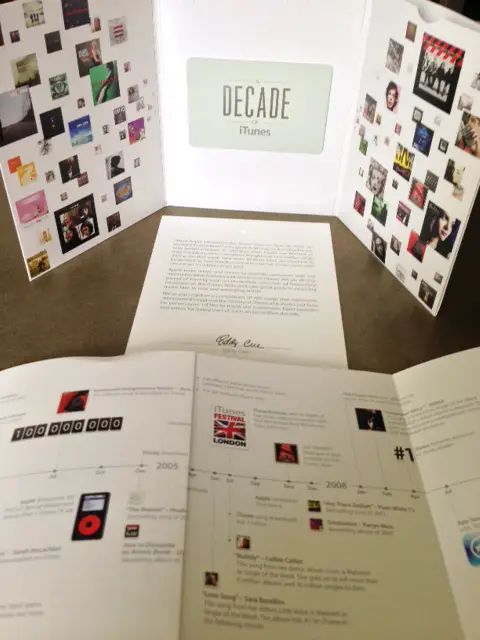 Read more about the history of iTunes here and here.