Jack White and Foo Fighters Play Surprise Shows
Elon Musk has been in the news lately for not the best reasons, but on August 17th he did something pretty cool for workers at the Tesla Factory in Freemont, California by having Jack White put on a free, quittin' time concert. According to Wikipedia it employs around 10,000 people, and by the looks of the short video below from Third Man Records they all turned out to see Jack!
This had apparently been a thought of the Motor City native for a few years now, turned into reality through a 14-song set before an appreciative crowd that was poignantly kicked off with "The Big Three Killed My Baby", The White Stripes' ode to the automotive industry from their 1999 self-titled debut.
White isn't just a "huge fanatic and supporter of everything Tesla has been doing since day one." He is a devoted disciple of alternating current inventor Nikola Tesla, which anyone who has seen Jim Jarmusch's 2003 film Coffee and Cigarettes would know. His segment is entitled "Jack Shows Meg His Tesla Coil".
Thank you @Tesla! pic.twitter.com/wOcujDNWL9

— Third Man Records (@thirdmanrecords) August 18, 2018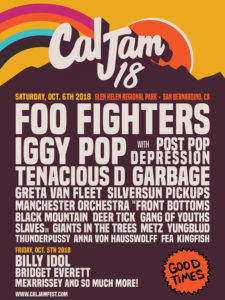 As for Foo Fighters, they'll be back in California on Sunday, August 26th for what promises to be a super-fun and also free event at Hollywood Palladium promoting the upcoming Cal Jam 18. In addition to photo opportunities with the "throne" Dave Grohl used when he broke his leg and the stretch luxury vehicle from the FOO's "White Limo" video (RIP driver Lemmy), there will be musical appearances from Chevy Metal and The Holy Shits.
The Who? No not them, although I wouldn't be shocked if the crudely-named group were to do a non-crappy take on "Young Man Blues", made famous by Daltrey, Townshend et al. on the 1970 album Live at Leeds. The Holy Shits are Foo Fighters in actuality, pretending to be a bar band playing classic rock songs for the first time ever. That's how they billed themselves at least during the encore portion of the 2014 Firefly Festival (where they performed "School's Out", "Miss You", "Ain't Talkin' 'Bout Love" and "Under Pressure").
Chevy Metal's tributes are on the harder end of the rock spectrum – think deep ZZ Top and Black Sabbath cuts – FFeaturing Taylor Hawkins and Chris Shiflett's shredding guitar. So…Foo Fighters are essentially playing for free in LA next week, huh? And Air Canada is having a Surprise Seat Sale, hmmm…