Jack White Announces an Acoustic Collection. Listen to an Unreleased White Stripes Song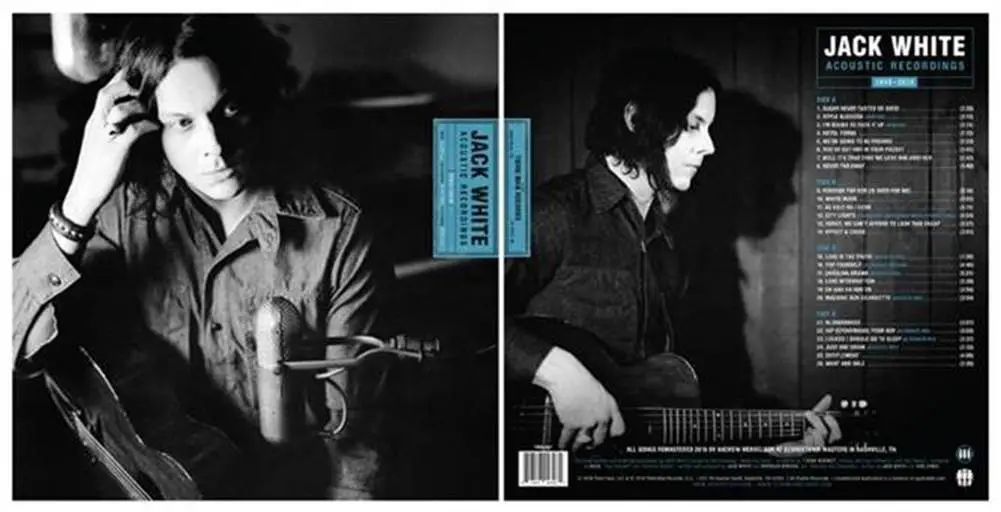 Fresh off being the person behind a project to play a record in space, Jack White has announced a new acoustic collection entitled Jack White Acoustic Recordings 1998-2016. Extending all the way back to before the White Stripes, the double CD and double vinyl (of course!) set features 26 tracks and will be available September 9.
Like what? Various album tracks, remixes, alternate versions and B-sides.
SIDE A
Sugar Never Tasted So Good (from the White Stripes' first-ever 7-inch)
Apple Blossom (Remixed)
I'm Bound To Pack It Up (Remixed)
Hotel Yorba
We're Going To Be Friends
You've Got Her In Your Pocket
Well It's True That We Love One Another
Never Far Away (From the movie Cold Mountain)
SIDE B
Forever For Her (Is Over For Me)
White Moon
As Ugly As I Seem
City Lights (Previously Unreleased White Stripes Track – See below)
Honey, We Can't Afford To Look This Cheap  (Produced by Beck and found on the b-side of "Conquest," the last White Stripes' single.)
Effect & Cause
SIDE C
Love Is The Truth (Acoustic Mix) (Written for a Coke campaign)
Top Yourself (Bluegrass Version)
Carolina Drama (Acoustic Mix) (Written with Brendan Benson from the Raconteurs)
Love Interruption
On And On And On
Machine Gun Silhouette (Acoustic Mix)
SIDE D
Blunderbuss
Hip (Eponymous) Poor Boy (Alternate Mix)
I Guess I Should Go To Sleep (Alternate Mix)
Just One Drink (Acoustic Mix)
Entitlement
Want And Able
One of the cool inclusions in a previously unreleased White Strips song called "City Lights" which was written for Get Behind Me Satan but never used. Take a listen.