He Did It! Jack White Becomes the First Person to Play a Record in Space. Sort Of.
Physics says that it's not easy to play a record in space. Never mind the complications of getting a turntable up there, but gravity tends to be an essential element. Without it, the tonearm and stylus assembly isn't able to sit in the groove of the record. And what about atmospheric and orbital turbulence? How could we humans release vinyl from the bounds of Earth? This was an engineering problem that disturbed Jack White and Third Man Records.
Okay, so this doesn't exactly put Jack in the same company as Elon Musk, Burt Rutan or even Richard Branson, but Jack felt that this was one engineering exercise worth pursuing. And they did it.
Yesterday (July 30), this specially-designed "space proof" turntable was launched in a high-altitude balloon dubbed The Icarus Craft from a site near Marsing, Idaho.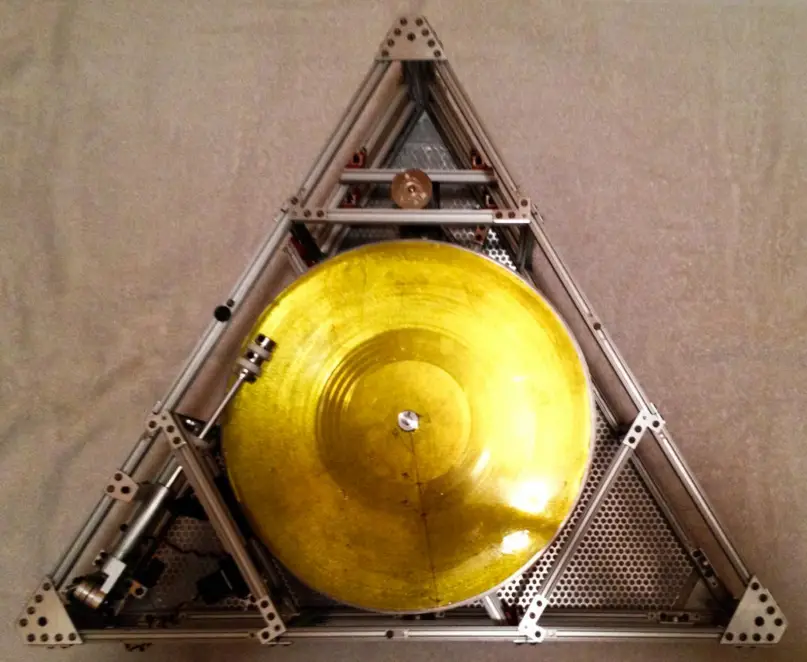 The balloon rose to 94,413 feet–a little more than 28 kilometres–playing a Third Man-issued 2010 single called "A Glorious Dawn," which features the voice of astronomer Carl Sagan set to music. Once the record finished playing, the tonearm lifted and went back to the beginning, much like we see in an old-school jukebox.
The #IcarusCraft at peak altitude — 94,413 feet above Earth — at 1:21:20 flight time! pic.twitter.com/4jrBoN1S2i

— Third Man Records (@thirdmanrecords) July 30, 2016
After about 80 minutes, the balloon burst and everything fell to earth. Amazingly, the turntable was still spinning when it was discovered.
Fantastic, Jack–but now I and other space nerds must switch to pedantic mode. Scientists tell us that space begins at about a hundred kilometres altitude, about four times the height of Jack's balloon. And at 28 km, the effects of gravity can still be felt. Still, let's not get too picky about this small step for a record,
Still, let's not get too picky about this small step for a record, one giant leap for DJ-kind. It's a pretty cool achievement, especially since it involved a program called SATINS (Students and Teachers in Near Space.) Jack says
 Our main goal from inception to completion of this project was to inject imagination and inspiration into the daily discourse of music and vinyl lovers. Combining our creative impulses with those of discovery and science is our passion, and even on the scale that we are working with here, it was exhilarating to decide to do something that hasn't been done before and to work towards its completion. And, it brings us great fulfillment to pay tribute to the incredible scientist and dreamer that Carl Sagan was. We hope that in meeting our goal we inspire others to dream big and start their own missions, whatever they may be.
Here's a video of the mission. A full mission report can be found here.