Jack White Renews Passport for New Canadian Tour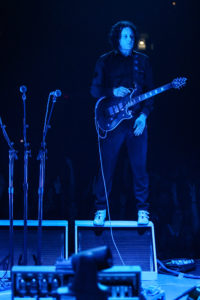 Fear not, music fans who don't live in Toronto or Vancouver – Jack White hasn't forgot about you!
The one of a kind rocker is bringing his Boarding House Reach tour back over the border for an exclusively Canadian leg starting November 2nd at Rogers Place in Edmonton. From there White and the four instrumentalists he's been performing with in 2018 will move eastward through Calgary, Winnipeg, London, Ottawa, Laval, Quebec City and Moncton before wrapping things up in Halifax on the 14th. Further details and on sale dates can be found here.
These shows will be the first time Jack has stepped foot in the Maritimes since he and "big sister" Meg unforgettably barnstormed across the country from the North to Newfoundland and literally everywhere in between, all chronicled as part of the 2009 documentary Under Great White Northern Lights. It's a little surprising he never paid a return visit that we know of as a member of The Raconteurs, The Dead Weather, or as a solo artist during his previous two album cycles – Legend has it the man born John Anthony Gillis' two grandparents left Nova Scotia to start a new life and family in southwest Detroit.
Eleven years later, I still regret having missed The White Stripes play a secret show at Avra Flour Mill just outside of London. I'll make up for it in my mind by getting a ticket for Budweiser Gardens on November 8th, even if I just saw White in June at Toronto's Budweiser Stage. For no other reason, I want to get my grubby hands on my own copy of the kick-ass, Wizard of Oz-inspired artwork courtesy of Hamilton, Ontario's Matt Ryan Tobin. This isn't just any old tour, but a Grand Canadian Tour as the poster says! And while no opening act has been announced yet, how cool would it be if it was Kandle Osborne?