Jack White Wants to Hook Your Kids on Vinyl ASAP
A trip to Jack White's Third Man Records store in Nashville can be an expensive proposition. Not only can easily empty your wallet on all sorts of vinyl, there's plenty of other merchandise on the shelves and in cabinets.  Here's the latest TM product.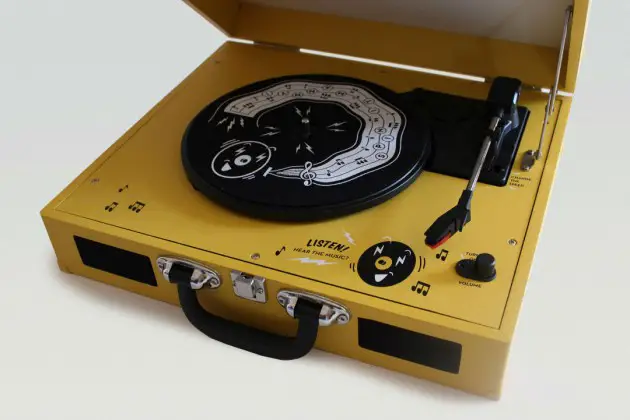 This is the portable turntable that forms the basis of a just-for-kids package designed to get kids into vinyl in the same way they did c.1965.  I, for example, had a Silvertone suitcase record player my mom bought at Simpson-Sears. It was covered in green leatherette, could play records at 16 2/3, 33 1/3, 45 and 78 RPM and had a reversible cartridge used only for 78s. I loved that thing.
Let me quote from the press release:
Light In the Attic's This Record Belongs To__________ is the antidote to your standard kids' compilations. You won't find boy bands, princesses, or purple dinosaurs here. Instead, we have Carole King, Jerry Garcia, Harry Nilsson, The Pointer Sisters, Donovan–and Kermit The Frog.
This record, compiled and sequenced by DJ and friend with the most trustworthy set of earsZach Cowie, is dear to our hearts here at Third Man, as this collection of songs (previously passed around as a gift between friends) was the soundtrack of the first year or life for many TMR offspring. These kiddos now all have undeniably excellent taste in tunes. Trust us. The record is accompanied by an original, full-color storybook (in which five forest pals discover the beauty of vinyl records) with illustrations by acclaimed artist Jess Rotter.
Inspired by the classic Little Golden Books Series and Sesame Street's In Harmony albums, This Record Belongs To ______ stems from a love of music, reading, and a passion for teaching future generations the interactive experience of holding an album in your hands, putting needle to groove, and immersing yourself in the pages of a record's sleeve as the music plays.
How can you fully introduce your children to the magic of vinyl records without letting them interact with the record player a bit themselves? Third Man Records realizes your high end turntable might not be kid-friendly, so we are co-releasing a portable, suitcase record player just for the smalls!
The new Third Man Records Children's Turntable is made by Jensen, is compact and portable, and features images of Manny, the Third Man mascot. The three-speed turntable with built-in speakers has a USB port for converting vinyl records to digital, an automatic return tone arm, and is as lightweight as a portable turntable can be. Included with the turntable is a Manny t-shirt and sticker.
This Record Belongs To __________   and the Third Man Records Children's Turntable, sold as a bundle, are available for pre-order today and in stores on November 6th.
Could make a nice Christmas gift for that future Third Man customer, don't you think?