More on James Murphy's Awesome (Non-LCD) Soundsystem
When I win the lottery–any day now, I'm sure–I'm going to take a big chunk of my winnings and buy the most badass stereo system I can.  And not some home theatre thing, either; a proper two-channel, dedicated-to-listening-music-only system.  Kinda like what James Murphy has done with Despacio.
This is a monster creation of Murphy, David and Stephen Dewaele (Soulwax, 2Many DJs) and high-end audiophile manufacturer, McIntosh.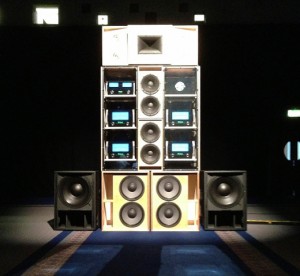 Spin takes a look:
I've read quite a bit about it, but I'm having trouble wrapping my head around exactly what Despacio is like. How would you describe it?
David: It's hard to describe and it's also not picture- or phone-friendly. You really have to experience it, because of the physicality of it. What we set out to do was to make the ultimate party that we would want to go to. It's not necessarily a 
reaction
 to what we do on a weekly basis, which is go to clubs set up for somebody else and play off a USB stick so kids can put their hands in the air. It's more that we wanted to do something really beautiful for ourselves.
And we were super lucky, because it's such an incredibly ambitious and stupidly expensive endeavor that it wouldn't have happened if we hadn't had so many people around us get involved. It cost about a million Euros, just in terms of the speakers and the setup and the amps, and we were super lucky to have the company McIntosh so into this crazy idea. They got involved and they supplied us with the amplification. It's basically like the Glastonbury main stage, so.