Jammie Thomas Still Owes $222,000–And That's That. It's Over.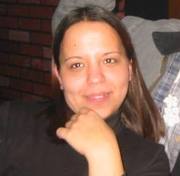 Remember Jammie Thomas-Rasset?  She was the mom from Minnesota busted for sharing twenty-four songs on a P2P network.  After declining to settle for $5,000, things went theromonuclear in the courts (Wikipedia has the case file when it comes to the fines that were assessed over the years).
Jammie and her people wouldn't quit.  They vowed to fight and fight and fight, even if it meant taking it all the way up to the US Supreme Court.
Well, they tried–and today, the Court declined to hear her appeal.  That means she's on the hook for the final assessed fine of $222,000–$9,250 per song.  
This is the end of the line.  I doubt if the International Criminal Court in The Hague is interested.  And I wouldn't expect anyone in the UN to take up her cause.  Not that either of these instituations would, of course.
The Court didn't issue a comment with their decision.  Jammie, however, had one of her own to the Associated press:  
"There's no way that they can collect. Right now, I get energy assistance because I have four kids. It's just the one income. My husband isn't working. It's not possible for them to collect even if they wanted to. I have no assets."
Here are the twenty-four songs that is costing so much money.  (It could have been worse; Jammie was originally nailed for sharing 1,700 tracks.)  Feel free to make jokes based on the following song titles. They kinda write themselves, actually.
Aerosmith – "Cryin'"
Def Leppard
 – 
"Pour Some Sugar on Me"
Destiny's Child
 – 
"Bills, Bills, Bills"
Gloria Estefan
 – 
"Rhythm Is Gonna Get You"
Gloria Estefan
 – 
"Here We Are"
Gloria Estefan
 – 
"Coming Out of the Dark"
Goo Goo Dolls – "Iris"
Green Day
 – 
"Basket Case"
Guns N' Roses – "Welcome to the Jungle"
Guns N' Roses
 – 
"November Rain"
Janet Jackson
 – 
"Let's Wait Awhile"
Journey
 – 
"Don't Stop Believin'"
Journey – "Faithfully"
Linkin Park – "One Step Closer"
No Doubt – "Different People"
Reba McEntire –
"One Honest Heart"
Richard Marx – "Now and Forever"
Sarah McLachlan
 – 
"Possession"
Sarah McLachlan –
"Building a Mystery"
Sheryl Crow
 – 
"Run Baby Run"
Vanessa Williams
 – 
"Save the Best for Last"