Japandroids Blaspheme on New Album Title
blas·pheme
/blasˈfēm,ˈblasˌfēm/

verb
speak irreverently about God or sacred things.
"Japandroids' new live album is called Massey Fucking Hall"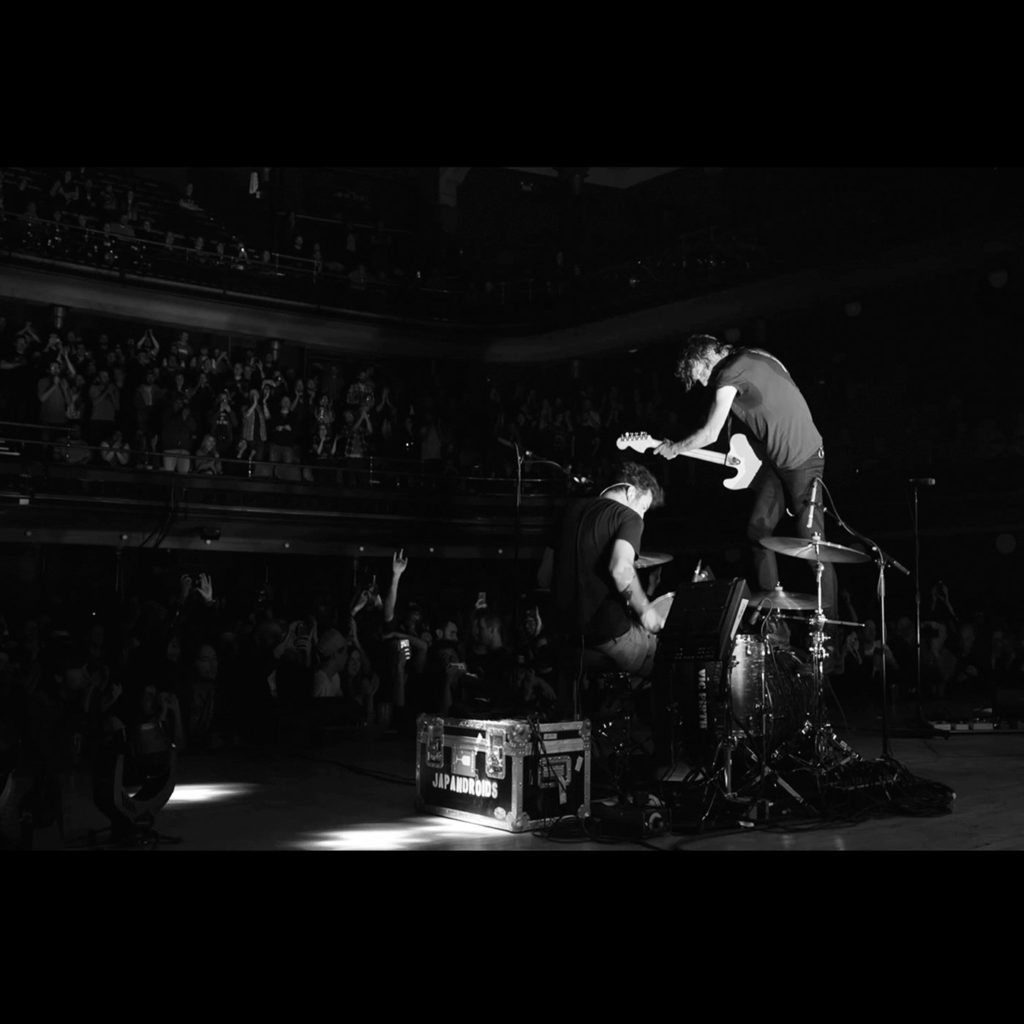 Before COVID-19 shut down concerts for Lord knows how long, Japandroids were on a very short list contending for the title of "Most Energetic Rock Acts Ever". If you are somehow unfamiliar with the crash-and-bash duo from Vancouver, guitarist Brian King's and drummer David Prowse's collaborative catalogue has been described as Springsteen-ish heartland roots, only at breakneck punk speed.
They've been blowing away audiences around the world since their debut Post-Nothing came into earshot, although it's taken them ten-plus years to release a proper live album. Japandroids couldn't have picked a better show to record, as it captures a small-but-mighty band ripping through a little over 60 minutes of career-spanning material, including a few surprises.
Massey Fucking Hall will be available to stream starting June 19, unfortunately without their cover of The Tragically Hip's "Nautical Disaster" dedicated to Gord Downie, who had died the week earlier. However, teaser video "Heart Sweats" contains a snippet of King and Prowse paying homage to The Stooges with "1970" as part of the song's intro.
Even though they'll always be "Rockers East Vancouver", Japandroids were fully aware how big a deal it was for them to play Toronto's historic, 120+ year-old venue prior to it closing for renovations. The title comes from singer King's reaction at the end of set opener "Near to the Wild Heart of Life", a realization of how far he and his bandmate have come to being on such a storied stage.
No matter how much hearing this album will make me want to go out and experience the thrill of a band like Japandroids again, there's no way in hell I'm putting on a coronavirus-proof suit. Massey Fucking Hall will have to do…for now. Pre-order the double vinyl LP through their label Arts & Crafts' Shop.