Jared Leto Named Worst-Dressed Man on the Planet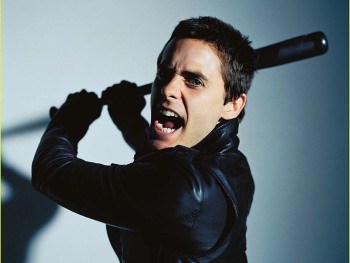 A couple of years ago, just ahead of the release of the This Is War album, I had a chance to sit down with frontman Jared Leto. Even with my fashion blindness–I know that black goes with white and that's about it–I could see that this man's sense of style was…different.
The scarf. The multi-coloured fingerless knitted gloves. The shiny pants. For someone who insisted on conducting the interview in a place that offered much privacy and security, his fashion choices screamed "LOOK THIS WAY!"
If Jared was looking for recognition for his style, he now has it. But he was probably hoping for something a little more, er, complimentary. GQ–that arbiter of male style–has named him Worst-Dressed Man in the World.
He's flaunted nipples through mesh shirts. He's worn skirts about as frequently as pants. He's rocked a mullet. He is the Worst-Dressed Man in the World. Look, it's not that Jared Leto, the actor and 30 Seconds to Mars frontman, doesn't try. He tries too damn hard. Don't get us twisted, Jared, we like you, we think you're good at one of your day jobs. But consider this philosophy from legendary dandy Beau Brummell: "A gentleman should never be noticed for the singularity of his dress."
Read More http://www.gq.com/style/profiles/201112/gq-worst-dressed-man-jared-leto#ixzz1iOuZ9OU9