Jeremy Dutcher's album Wolastoqiyik Lintuwakonawa wins the 2018 Polaris Music Prize
A lot of people (including me!) will be stumbling over the title of the winning album in the 2018 Polaris Prize. Wolastoqiyik Lintuwakonawa by Jeremy Dutcher was named the top Canadian album of the year by the grand jury at the Carlu in Toronto last night.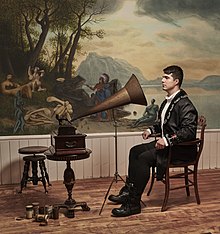 This requires some unpacking.
Dutcher is a classically trained operatic tenor and composer from New Brunswick who works to use his Wolastoq First Nation roots into the music that will help preserve this endangered language.
Dutcher spent part of his life in the Tobique First Nation in New Brunswick. The album is sung entirely in the Wolastoq language. The idea for this began as Dutcher was attending Dalhousie University in Halifax. He originally enrolled to study music but then switched to anthropological research on his Wolastoq community. It was a suggestion by one of the community's elders that sent him searching for more information about his ancestors at the Canadian Museum of History in Gatineau, Que.
The resulting album was the culmination of five years' work in the archives. For his efforts, Dutcher took home a cheque for $50,000. The other nine artists on the Short List received $3,000.
.@jdutchermusic
? by @dustinrabin pic.twitter.com/cH1CevIMir

— Polaris Music Prize (@PolarisPrize) September 18, 2018
While the win will have most of Canada (nay, the entire music world) scratching their heads, this is exactly why initiatives like Polaris are important: they highlight worthy works of art that would otherwise go unnoticed.
Of the 13 Polaris Prizes so far, this is the third win for an Indigenous artist. Tanya Tagaq was named the winner for her Animism album in 2014 while Buffy Sainte-Marie won for Power in the Blood back in 2015. Last year's winner, Lido Pimienta, is an immigrant from Colombia who sings mainly in Spanish.
Dutcher's win marks the first time a classical recording has won the Polaris.