Johnny Ramones' Autobiography: An Excerpt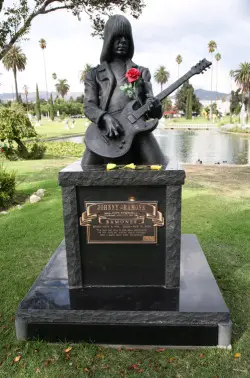 Yes, Johnny passed in 2004 from prostate cancer. But finally, the autobiography he'd been working on at the time of his death is ready. My guess that it's taken this long because it was in rough shape and needed massaging an rewriting by a ghost, not that uncommon a thing in the world of autobiographies.
Here's an excerpt from Commando: The Autobiography of Johnny Ramone which is due April 2:
For all my success with the Ramones, I carried around fury and intensity during my career. I had an image, and that image was anger. I was the one who was always scowling, downcast. I tried to make sure I looked like that when I was getting my picture taken.
When I was younger, I was ready to go off at any time. My wife, Linda, and I would go out to the Limelight in New York, and I would see people and be able to freeze them with a look. People were even too scared of me to tell me that people were scared of me.
I never felt out of control. It was just the way I lived my life. I was the neighborhood bully. I even beat up Joey, our singer, one time, before we were in the band. He was late to meet me—so I punched him. I was 21; he was 19. We were meeting up to go to a movie. There was no excuse for being late.
Tommy, Dee Dee, and I would go out to the clubs, which is really how the band got started. We were all friends. We had the same musical tastes, and we liked to get dressed up. Those were in the glitter days.
We lived in Forest Hills, and my parents were working class all the way. My father was from Brooklyn, he had three brothers, and they were all tough guys. They'd sit around our kitchen table and drink and talk about things like construction work and baseball. So, with all that macho stuff, they weren't all that happy when I started to get really into music.
Tommy, Dee Dee, and I would go hang out at this place on Bleecker Street called Nobody's. One night, the New York Dolls were hanging out there. They were already a band, but I hadn't seen them yet. I pointed to Johnny Thunders and told Tommy that he looked cool. Tommy said that the band was terrible. But I knew, looking at him, that there was something there. To me, it's always been about the look.
Tommy really wanted us to form a band, and he would be manager, and it would be this primitive thing. I'd say, "Oh that's ridiculous, I want to be normal." But he kept bugging me, and finally it turned into "Oh, now I have to actually do it?"
I wasn't a rock star, but I liked to dress well. I was six feet tall and weighed about 150 pounds, so I could wear a lot of things. I didn't spend a lot of money on clothes, but would always find stuff I thought was cool. I would get my clothes made at Granny Takes a Trip. I would have them make me velvet suits; I wore snakeskin shoes, chiffon shirts. I was working a construction job, and my life was putting on my jean jacket and going to work with all these union tough guys, then going home, changing into whatever clothes I was into at the time and driving into the city to see a show.
I went through phases. In high school, I always looked toward Brian Jones to see what he was wearing and then tried to find the closest thing. I thought he was one of the best dressers in rock and roll. Corduroy pants and corduroy shoes and striped shirts and striped T-shirts. There was a two-year period where I would wear jean jackets with no shirt, jeans, a tie-dyed headband, and a tie-dyed scarf around my waist. I always wanted to be the best-dressed person anywhere I went.
We were a three-piece, and it was bad. Dee Dee still couldn't sing and play at the same time. As Dee Dee and I were getting better on our instruments, Joey kept getting worse. Tommy said we needed more rehearsing, but I realized that Joey just wasn't right. I said, "Tommy, we need to get rid of Joey. He can't play drums." But Tommy said, "No, he can be the singer." I wanted a good-looking guy to be the singer. But Tommy said, "No, it will be like Alice Cooper. It'll be good."
At that point, we were still dressed in partial glitter. I had these silver-lamé pants made of Mylar, and these black spandex pants I'd wear, too. I was the only one with a real Perfecto leather jacket—what the Ramones would later be identified with—which I had been wearing for seven years already. I also had this vest with leopard trim that I had custom made.