Johnny Ramone's "Number One" Mosrite guitar and amp are going up for auction
Back in early 1974, Johnny Ramone got high on weed and decided that he wanted to learn how to play guitar. A quick visit to Manny's Guitar Shop and he was the owner of a blue Mosrite guitar. When that guitar was stolen out of the Sire Records van after a show in Chicago in 1977, he had to buy a replacement. This is that guitar. He would have bought it earlier, but at $500, he thought it was too expensive.
The 1965 Mosrite Ventures II served as Johnny's main instrument from 1977 through to 1996, including every Ramones gig during that period: 1,985 shows. It also was used on 15 Ramones albums and unaccountable bootlegs. It even hung in the Rock & Roll Hall of Fame for a while. In fact, it's signed on the back: "Johnny Ramone, My Main Guitar, 1977-1996."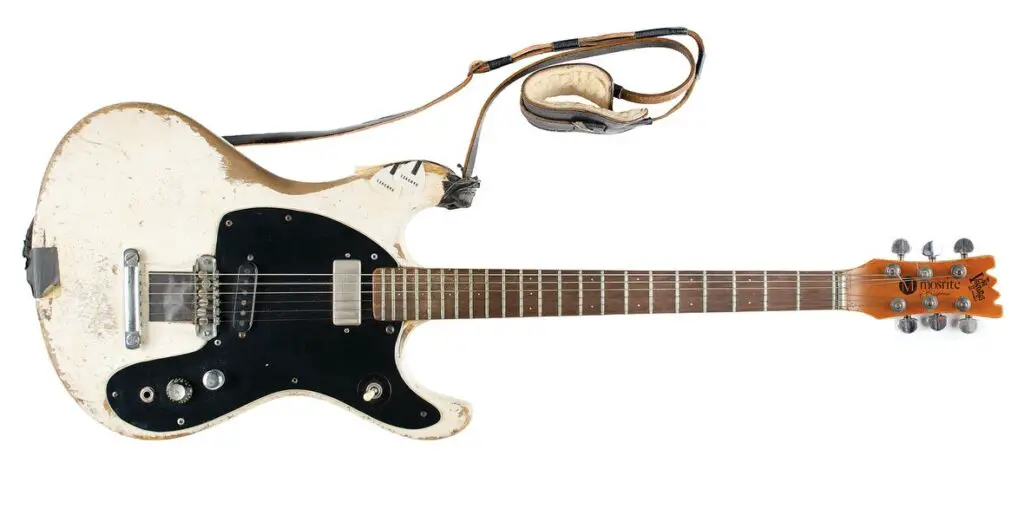 The Mosrite Ventures II is rare on its own with only maybe 150 produced. But to own the actual beaten up (VERY beaten up) one on all those Ramones songs? Wow. (Johnny owned four of them, but as the inscription says, this was his main guitar.)
That guitar and an amp are two of the items up for sale in The Remarkable Rarities auction coming up on September 25 in Boston. Everything comes from the collection of Daniel Rey who produced a number of Ramones and Ramones-related projects over the decades. The estimated selling price is US$500,000. That's 1,000 x what Johnny paid for it in '77.
Happy bidding.