Join Tool's Maynard James Keenan (and Me!) at the University of Toronto
Maynard James Keenan is an interesting guy. No, wait. He's more than that. Much more.
He's mysterious, cagey, guarded, outrageous, inventive, dodgy and clever. He's a singer, songwriter and actor. A winemaker with his own high-end vineyard. And a former cadet at West Point. And now he's the subject of a biography.
A Perfect Union of Contrary Things is Maynard's story as only he can tell it. Here's a taste.
Maynard will spend some time on the road promoting the book through a series of readings and question-and-answer sessions. One of those sessions will be held Convocation Hall at the University of Toronto on November 14. I'll be your host for this. See?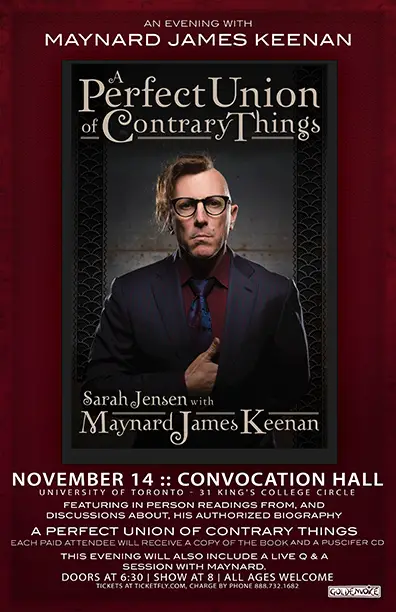 Note the small print: "Each paid attendee will receive a copy of the book and a Puscifer CD."
Buy now! See you there…