Just in time for the 25th anniversary of Kurt Cobain's death comes a new biography by an ex-manager
Danny Goldberg was Nirvana's manager in the middle of the maelstrom, which is to say from 1990 (as the band was prepping for Nevermind) to 1994 (when Kurt died).
Come April 2, Danny's new book on those years, Serving the Servant: Remembering Kurt Cobain will be available.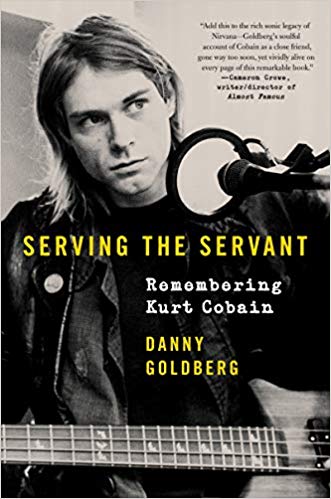 The book will cover what Goldberg remembers about Kurt, previously unheard stories with Kurt (including his addictions), Courtney and Kurt's family along with chats with bass player Kirst Novoselic. Dave Grohl seems to be missing from the equation for some reason.
Let's go back to last August when Goldberg first announced the book.
"I began to work with Kurt the year before Nevermind was recorded and remained close to him until days before his death. Media depictions of Kurt typically focus on the tragedy of his death. While it is impossible to ignore the inner demons which tormented him, in researching and writing Serving the Servant I have been more often reminded of Kurt's brilliance, his sense of humour and his kindness to most of those around him. He was so complex that no two people experienced the same person, but I hope I am able to add another dimension to Kurt's legacy."
Read more at Variety.