Justin Bieber Hates Justin Bieber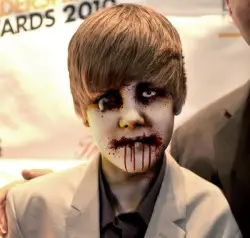 In the movie Office Space, there's a character named Michael Bolton. Naturally, that creates all kinds of issue for him. When Bob and Bob, the efficiency experts interview Michael at Initech, they're quite impressed.
"I'll be honest with you, I love his music. I do. I'm a Michael Bolton fan. For my money, I don't know if it gets any better than when he sings 'When a Man Loves a Woman.'"
I thought of this scene when I heard of 50 year-old Justin Bieber of Lewiston, Maine. He's sick of little girls from all over the world spamming him on Facebook. If you check out his biography, it reads
"Little girls please stop adding me I am not that little punk ass bitch and stop trying cause he likes dick. I am Justin Bieber, 50 year old carpenter from Ohio. I currently live in Maine. I like prostitutes, booze and cigarettes. FUCK KIDS."
Good for him. Why not offer him a bit of support? Here's his Facebook page.
(Via Music-News)