Justin Bieber SAVES SOMEONE'S LIFE! Sort of…
Igor Vorozhbitsyn was looking forward to a quiet day of fishing in northern Russian when out of the woods came a rather annoyed (and apparently hungry) brown bear.  The bear leaped on poor Igor from behind, so he never saw it coming.  ucky for him, though, his dinner invitation was cancelled by his mobile phone going off.
For some reason, Vorozhbitsyn had his ringtone set to Justin Bieber's "Baby."  That was enough to freak out the bear, sending him running back into the forest.  Vorozhbitsyn escaped the ordeal with cuts and bruises to his face, neck and upper torso.  He was able to make it to a nearby road where he was discovered and taken to hospital.
Your next question should be "What the hell was 'Baby' doing as his ringtone?"  His granddaughter loaded it as a joke.  Good thing, huh?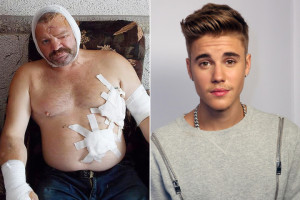 Photo via Europics, Getty Images and the New York Post.