Justin Bieber's Monkey? Abandoned, Just Like Bubbles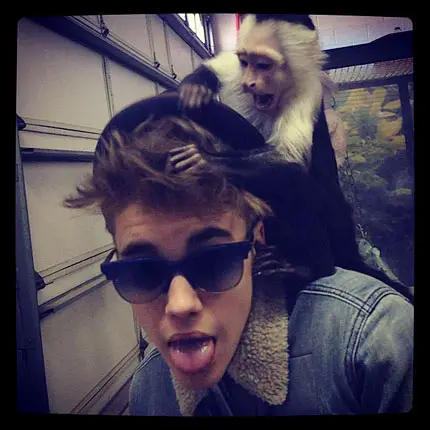 Bubbles, Michael Jackson's chimp friend, was sent packing by the family in 2005. He now lives on in an animal sanctuary in Florida where his upkeep and care rests on donations.
Justin Bieber, following in the footsteps of his hero, MJ, doesn't want his monkey anymore, either.
Back on March 28, Mally–that's the monkey's name–was seized from Bieber when his private jet touched down in Munich. Everyone's paperwork was in order–except Mally's. He's been in quarantine ever since. Solitary confinement, apparently.
Bieber can't be arsed to go through the paperwork to rescue Mally so he's sent word to the Germans that they should find Mally a good home.
Read the heartbreaking story at The Sun.