Kate Bush Live in London: Her Last Show Ever?
When Kate Bush announced that she was going to perform her first proper concerts in 35 years, the universe shifted slightly. All 80,000 tickets for her 22 night stand at the Hammersmith Eventim disappeared in 15 minutes, immediately creating a black market for tickets. I shudder to think what they were being scalped for.
I'd long given up on being able to go until MarkMarkMark (he likes to be called James Bond, and with good reason) found himself with an extra VIP ticket for the final show of Kate's residency.
Did I want to go? F**K YEAH! I even felt the same way even after he told me the tickets were £414 each.. At today's rate, that's $750 CAD.
I don't have many bucket list concert experiences, but this was one of them. I had to make it happen.
As soon as I finished my interview with the Foo Fighters in LA, I roared back to LAX and hopped on an eleven hour flight to London. I made it to the hotel for two, had a plate of curry at the place around the corner, nabbed a 45 minute kip and then grabbed a cab to Hammersmith to meet MarkMarkMark James Bond.
Here are some photo highlights from the night.
Our tickets came with a special pre-show VIP dinner at the church across the street. It was quite spectacular.
Naturally, it started with a welcome glass of Champagne.
Dinner came in a picnic basket.
Here's what it contained. Read the descriptions carefully.
"Edible dirt?" Yeah. It looked like this.
It also came with an interesting deep-fried egg.
The salmon mousse was very nice.
The sauce and mayonnaise was very good, too.
And of course, there was wine.
After I managed to shove all that into my gob (there was also a chicken dish, a cheese course and more), it was time to go across the street to the Hammersmith.  The lobby was jammed.
The venue quickly filled up.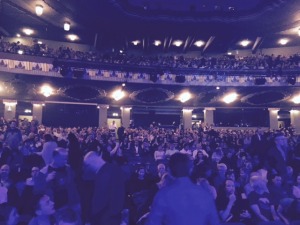 Looking around, I found Del Palmer and Kate's brother (dude with the beard you can't see because the blonde woman is isn the way)…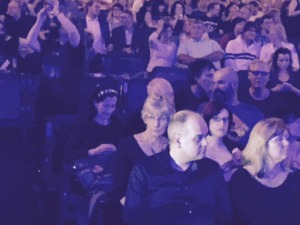 …and Pink Floyd's David Gilmour (right in the centre).
Further down the row was Stephen Merchant, Ricky Gervais' writing partner. I didn't managed to get a picture of him, though.
This is the view from our seats. Picture-taking was allowed before the gig began.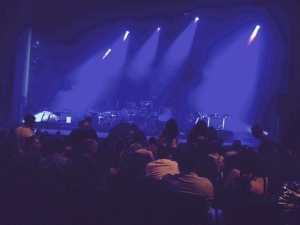 A slightly closer view of the stage before the show started. Again, this was completely legal under gig rules. Kate had a seven-piece band that included Peter Gabriel's favourite guitarist and two percussionists.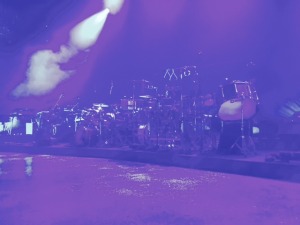 Taking pictures during the gig was STRICTLY forbidden.  They had photo cops roaming the aisles warning people to cut it out.  But they couldn't be in all places at once, right? Especially towards the end of the show when everyone was taking their bows for the final time.
For the encore, MarkMarkMark and I rushed the stage for a better look during "Cloudbusting." I couldn't resist another shot. (Hey, I wasn't the only one. And this doesn't make me a bad fan. By the time we got to the last song of the last show, everyone in the audience wanted at least one souvenir picture. If you were there you would have done exactly the same thing.)
She seemed like she was having fun. "Why did I wait 35 years for this?"
A fine night. Worth the money? Absolutely.
Here's a very, very good article on why Kate Bush matters. If you're still looking at me weird for spending all this time and money to see what could be her last-ever show, read it.